Try Curiosity Stream Free for 7-Days and You'll Never Go Back to Garbage TV
It offers an ever-expanding non-fiction library for one very low price.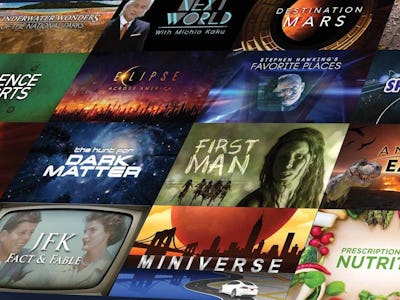 CuriosityStream
We all love Netflix and Hulu, but if you feel a nagging sensation in your heart that there should be more to watching TV than 14-hour chapter plays and sitcoms from the 90s… you're right. If you've appreciated the educational-yet-entertaining programming that used to be a fixture on networks like Discovery, History, or Animal Planet, it and much more has a new home: then Curiosity Stream is for you. And right now, you can try it free for 7 days.
Curiosity Stream is an online streaming platform devoted to the best documentary shows and films out there, on topics including science, history, nature, technology, and many more. You can explore every corner of the universe from the smallest atomic particles to the unfathomably massive reach of space with the platform's award-winning programs, including titles like The Secrets of Quantum Physics, The Rise and Fall of T-Rex, Stephen Hawking's Favorite Places, and thousands more, all available for your viewing pleasure no matter where you go, thanks to CuriosityStream's regional restriction-free programming. And you can try it all right now for a week absolutely free.
CuriosityStream comes in two versions, both of which are visually dazzling in their own rights. If high-definition streaming is good enough for your viewing purposes, a year's worth will cost you $19.99, or you can opt for $2.99 per month. With this price, you get CuriosityStream's incredible library of documentary programming, with thousands of shows and features, and additional programs being added to the lineup on a regular basis.
But if you demand more than high definition, you may want to opt for CuriosityStream's ultra-HD streaming plan with content in 4K definition. You'll pay just $9.99 a month, or $69.99 per year if you sign up for an annual plan, which is still less than many people pay for streaming services like Netflix. And of course, you can also try the Premium 4K streaming plan free for seven days.
CuriosityStream can sometimes feel like an oasis in the desert of modern-day television, packed only with programs that meet its own high standards in the areas of both education and entertainment. And unless you use some extremely obscure devices to watch TV and movies at home or on the go, CuriosityStream is compatible with your setup, including Apple and Android tablets, LG, Sony, Vizio, and Samsung smart TVs, to Apple TV, Roku TV, Amazon Fire TV, and Chromecast, and the Xbox One.
So if you're looking for a way to make your binge-watching time a little more informational and a little less vegetative, CuriosityStream is your best bet. And you can give it a try for a week right now, for free, so head over to its official site and get started, today.