A Complete Timeline of 'Arrow' Star Stephen Amell's Wrestling Career
Now the star of 'Heels,' here's a look at Stephen Amell's surprisingly storied history as a pro wrestler.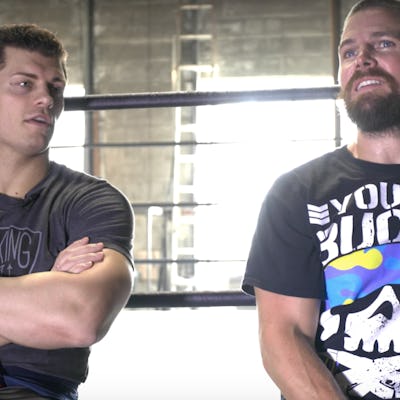 YouTube.com/Nightmare Family
When the crisis (on infinite Earths) ends, Stephen Amell's new role will begin. The star of The CW's Arrow, which is concluding with its eighth and final season this fall, will next appear in a new hourlong Starz drama Heels, set in the world of independent pro wrestling.
Beyond Amell being one of the most athletic actors today (he competed, and nearly finished, American Ninja Warrior in 2017) the role is especially fun given Amell's deep history with wrestling. Like GLOW star Kia Stevens, who had a notable career as "Awesome Kong" (and briefly "Kharma" when she was signed to WWE), Amell is no stranger to the ring with several matches performed under his name.
On Monday, Deadline reported Amell had lined up his first gig post-Arrow. In Heels, written by Michael Waldron (Loki), with Mike O'Malley as showrunner, Amell stars as the owner and regular performer of DWA, a small-time pro wrestling promotion in rural Georgia.
In the ring, Amell's "Jack Spade" is a villain ("heel" in wrestling jargon). But outside the ring, Jack is a father trying to make ends meet while still grappling onto his dreams. Deadline further describes Amell's character as possessing "the mind of an artist in the body of a warrior, and a Steve Jobs-ian need for perfection — and for control."
While Amell is portraying a pro wrestler in Heels, he's already been one, thrice. In 2014, months after the launch of the WWE's streaming service WWE Network, Amell shared video selfies of himself watching old WWF matches from behind the scenes of Arrow. (These posts have since been deleted or become hard to find, but trust me, he posted them. In one, he questioned the WWE calling Sting "The Vigilante," to his chagrin.)
Besides starring in Arrow, Amell was simply a fan of pro wrestling. That is, until the WWE got involved.
2015: WWE SummerSlam
Amell's fandom made its way to WWE proper in 2015. On the May 25, 2015 episode of Monday Night RAW, Cody Rhodes — at the time performing under the persona of "Stardust," a flamboyant David Bowie-esque figure — provoked Amell, who sat ringside, and challenged the actor to a match.
Amell returned on August 10, where another provocation by Stardust forced Amell to intervene during a match between Wade "King" Barrett and Adrian Neville. Afterward, an angry Triple H booked Amell in a tag-team match against Cody Rhodes for SummerSlam 2015 in Brooklyn, with Neville as Amell's partner. Amell and Neville emerged victorious. Wrestling gossip sites later reported that Amell impressed the WWE locker room with his participation and willingness to work the match.
Amell and Rhodes became friends after working SummerSlam, which led to Rhodes' recurring role as the villain Derek Sampson on Arrow. Rhodes would remain Amell's wrestling hook up, even after he left WWE in 2016.
2016: Teenage Mutant Ninja Turtles: Out of the Shadows
This isn't a match but worth pointing out: In 2016, Amell starred in Teenage Mutant Ninja Turtles: Out of the Shadows. Also in the movie was WWE star Sheamus, who played the villain Rocksteady.
For a video on WWE.com, Sheamus interviewed Amell. 
2017: Ring of Honor: Survival of the Fittest
In November 2017, Amell competed in his second match for independent promotion Ring of Honor.
Now aligned with Cody Rhodes' team Bullet Club (along with Kenny Omega and the Young Bucks), Amell took on Christopher Daniels, Frankie Kazarian, Flip Gordon, and Scorpio Sky. To promote the match, Amell launched his own store on ProWrestlingTees.com to sell "Vigilante Club" hoodies and shirts, which sport a Green Arrow riff on the Bullet Club logo.
2018: All In
In August 2018, Amell again joined Cody Rhodes at All In, a one-off event arranged as a dare for a non-WWE promotion to sell-out 10,000 tickets. (The ultimately sold 11,263 tickets.) This time, Amell competed in his first singles match against his Ring of Honor opponent, Christopher Daniels.
The two wrestled for 12 minutes, 60 seconds, with Daniels pinninagrrow Amell with a moonsault launched from the top rope. After the match, the two shook hands and posed in the ring together as a mutual sign of respect.
The Future: ???
It is unknown if Amell will wrestle again, and it's unlikely he will. In 2019, Amell joked at the Television Critics Press tour that his wife was not happy with his wrestling exploits. "I can't get back in the wrestling ring. I risk divorce," he said.
Wrestling also caused a disruption in production of Arrow, an experience Amell does not want to relive. After his All In match, Amell suffered an injury that was poorly timed as the Arrow star had to film a "stunt-heavy" episode in Season 7.
At MegaCon 2019 in May, Amell described the embarrassment of emailing his producers on his injuries.
"Right before Episode 7x07, I wrestled Christopher Daniels and I fractured my hip. There was nothing to be done," he said. "It couldn't get any worse, it could just not heal as fast, and we had to do the most stunt-heavy episode of the show. I had to send a note going, 'I know I'm an idiot, don't treat me any differently, this is on me. Apologies.' I don't want to have to send that note again. So, until I'm done with the show [Arrow], I'm staying out of the squared circle."
Pro wrestling may be "fake," but never tell a wrestler — or in this case, a former TV superhero — that the pain and bruises aren't real. Luckily, he's all prepared to do it again when he begins shooting Heels.
Arrow will begin its final season on The CW on October 15.