Jezebel's Jia Tolentino Has Hella Book Recs for You | MEDIA DIET
She loves 'Shark Tank' and has no time for Frappuccino ads.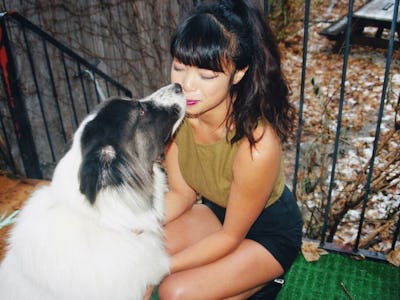 Jia Tolentino
Jia Tolentino fills her days as the features editor at Jezebel, Gawker Media's lady-oriented site. It's more substantive than some might expect from a blog — check out this Tyler, the Creator feature that ran this week — and Tolentino doesn't get a lot of time to slow down. That might explain why she's kind of an old soul once she gets home.
"I haven't owned a TV in 12 years," she tells me from the Jezebel offices. "I sort of have the TV taste of a hospital patient: Part of the reason I don't have a TV is so I don't end up watching it all day when I'm hungover. I would rather read a book." Still, Tolentino don't fake the funk on her love for the owner of the Dallas Mavericks. "Shark Tank is my favorite show on television," she says, telling me she watches the show on her computer via Hulu. "I fucking love Shark Tank, and I hate the summer when it's off because I just need it. I'm obsessed with Mark Cuban." She also reports, "Nashville is so bad but I can't stop watching it" and that she loved UnREAL, even though she's never seen The Bachelor.
So, about those books she'd rather be reading? "Jezebel, the pace is so aggressive," Tolentino says. "It's kind of like the opposite of a big, big book. When I was little, I always had to read for an hour before I could go to bed." She keeps up the practice to this day. She's pumped people are catching onto William Finnegan's Barbarian Days, saying, "That one, I only let myself read 10 pages at a time because I did not want it to end. It's so good. Surfing seems so anti-verbal and he is so minutely good at explaining it." She liked it so much that she reached for another surfing work, Tapping the Source. Written by Kem Nunn, the book inspired Point Break. "It's like True Detective," Tolentino says, "But all coked-out, Venice Beach, early '80s."
Tolentino also recently enjoyed Elena Ferrante's The Story of the Lost Child and Michael Paterniti's Love and Other Ways of Dying, which she also read as slowly as possible. "There have been some days where I've been so frantic for no reason after being on the internet all day," she tells me. "I have to come home, smoke a bunch of weed, and read poetry out loud to myself to shut my brain down." Tolentino also dug the upcoming Claire Vaye Watkins post-apocalyptic novel, Gold Fame Citrus, the follow-up to Battleborn, which she recommended to all of her friends going on vacation.
She ain't done yet. She also points to Barbara the Slut and Other People by Lauren Holmes. "One of the things I hate about contemporary fiction is that the stakes always seem really high," Tolentino says, "Some people will be going to the coffee shop and it will be unbearably emotional. This collection, there literally are no stakes. Their emotional range is so minimal and it's like, 'Thank God someone is writing like this.'"
Tolentino is a fan of the printed page — she gets The New Yorker and tries not to read books on her Kindle, even when she was in the Peace Corps. "I'm big on imposing arbitrary restrictions on myself. I've never used an emoji, I've never gotten a push notification," she says. As far as film is concerned, she hasn't watched as many lately as she'd like — just "stoner shit" like under the sea documentaries on Netflix.
When I ask her about music, she says she's reverting back to an older art form there, too. "I used to be constantly on the hunt for new music; I would make myself a SoundCloud mixtape every week. Then SoundCloud started using ads — and they're all for Frappuccinos — so I can't use SoundCloud anymore," Tolentino says. "I've gone back to listening to full albums. I went to Lollapalooza and all the acts I saw except for Metallica were bad." Rock on, Jia.