The Best Qi Enabled Phone Cases You Don't Have to Remove to Charge Your Phone
So you got a wireless charger, but your case is getting in the way.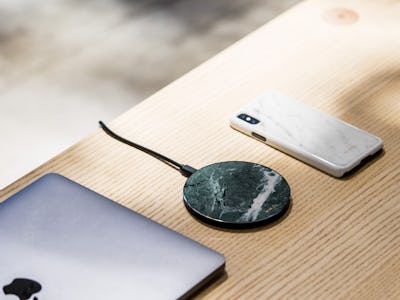 Unsplash / Mikey Wu
If you haven't learned all about wireless charging yet, allow me to bring it to your attention. If you have a phone that's come out in the last 2ish years—older, if you're an Android faithful—chances are it has Qi-enabled wireless charging compatibility. All this means is that your phone is able to charge without actually plugging something in to it. Thus, all your years of frantically needing to replace your phone cord the day it shorts without warning are over.
But with all great technological solutions, the rest of the world hasn't necessarily caught on yet. If you're an Otterbox, Lumee or Lifeproof case faithful, you're probably going to find yourself disappointed when you try wireless charging out for yourself. Why? Qi-enabled phones and devices require direct contact with the back of your phone or device in other to read the chip that allows wireless charging to occur. In other words, most Qi-enabled wireless chargers require you to remove your case for charging to take place. But for those of us that consider our phones our lifeline, risking damage to it by removing the case creates a lot of anxiety.
Below you'll find the cases I've found that allow you to protect your investment while still stepping into the brave new world of wireless charging.
For Your Samsung Galaxy S9
Why We Picked It: Perfect for your Samsung Galaxy S9, this case is unlike any other case on the market. It doubles as an external battery for when you're out in the world and your phone starts to die, while also being a protective case that shields your phone from shock damage and cracks. Not only that, but you can charge the case and your phone with your wireless charging pad without needing to remove the case from your phone.
For Your iPhone XR
Why We Picked It: mophie has long been the reigning champion of all external battery and charging case companies. For years, I had a mophie case on my phone and external battery in my bag just in case, so to know that mophie has gotten on board with creating an ultra-slim wireless battery case, designed specifically to be used with wireless chargers, just makes me a bigger fan of the company.
For The One That Doesn't Want A Charging Case
Why We Picked It: A case doesn't have to do a million different high-tech things to be a case worth having. This embossed silicone case both protects the front and back of your phone from shattering on impact and allows you to wirelessly charge your phone without removing the case. Available in 17 different designs, if you're looking for a simple case that does what you need, look no further.