4 Best Wireless Chargers on Amazon
Free yourself from the wired life with the best Wireless Chargers on Amazon.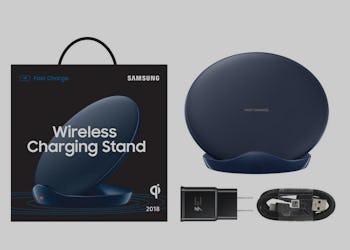 Amazon
As wireless charging becomes more and more common, we're seeing some very interesting applications using the technology. Ikea has a few pieces of furniture with wireless charging built-in, but nothing beats a dedicated charger you can place wherever you'd like. Even better, you don't even need to spend a lot to get a quality wireless charging experience. That said, some of the more expensive options available come with better designs and other things, like a QuickCharge adapter to justify their higher price.
If you're in the market for a wireless charger, here are the best of the best you can get on Amazon right now.
Anker PowerWave Charging Pad
For the most part, even the best wireless charger is just as good as the next one. This is only due to the limitations of the technology and the devices that can be charged via wireless charging. Safety is also a factor. Still, one of the hands down, very best options comes to you by Anker.
The Anker PowerWave Charging Pad provides fast wireless charging (10W) to compatible Android devices, which includes a majority of Samsung's flagship lineup for the past handful of years. iPhones can wirelessly charging up to 7.5W using the PowerWave, which is the standard for iOS devices. Best of all, the PowerWave comes with a dedicated QuickCharge 3.0 AC adapter.
If you prefer a standing charger, Anker has you back in that department as well.
Seneo WaveStand
While the Seneo WaveStand may be a name you've never heard of before, lack a dedicated QuickCharge adapter, and look nowhere near as slick as the Anker PowerWave, it performs exactly the same when it comes to charging your device in terms of speed. Now factor in that it's under $20 and you now know why this is the number two best selling wireless charger on Amazon.
RAVPower Fast Wireless Charger
RAVPower is a fairly sizable name in the world of chargers, so it's unsurprising that its wireless chargers are impressive, and impressive they are. It's not as expensive as Anker's PowerWave, but still includes a QuickCharge Adapter, making it a great buy.
You'll still get 10W fast wireless charging for compatible Android devices and 7.5W charging for iPhones, so there's no different to its charging capabilities as other options out there. As with most chargers, RAVPower's offers up safeguards to prevent overcharging, overcurrent, over-voltage, overheating, and short circuits.
Samsung Fast Wireless Charger
Whether you're loyal to Samsung or just want something from a brand that also makes both phones and chargers, this is the one for you. It's easily the most expensive wireless charger on this list, but you can get it for cheaper than some of the others when it's on sale (like it is right now).
Again, as far as charging capabilities, it's the same as all other fast wireless chargers, so don't think you'll get anything extra by charging your Samsung phone with a Samsung charger outside of ensuring compatibility. Still, all Qi-wireless charging compatible devices — which is most of them in the world, will work with this charger. It also comes in a really nice blue color if you're looking for anything but the expected black and white options you normally get with chargers of its kind.