Forget the Instant Pot, Grab One of These Incredible Slow Cookers Instead
Discover the magic of cooking your food "low and slow"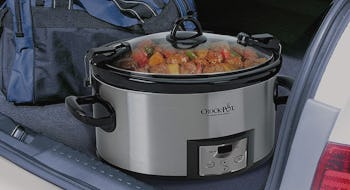 Amazon
Long before the modern miracle known as a multicooker came on the scene, slow cookers were all the rage. Unlike the multicooker, which combines up to 10 different modes of cooking, the slower cooker does one thing very well. It cooks low and slow, the mantra for taking tough cuts of meat and making them tender. Slow cooking results in moist, flavorful food.
With a slow cooker, you can put all the ingredients in the crock in the morning, turn it on, and come home from work to a yummy roast or stew. You don't even have to worry if your bus is running late, because it's almost impossible to burn something at a super-low temperature (plus, programmable models will switch to warm mode, anyway).
Another bonus to slow cookers is that you can get them for way less than a multicooker since you're only paying for one function.
For Meals to Take With You
Why We Chose It If you're a big tailgater or attend a lot of get-togethers where you bring the food, this easy-carry slow cooker will make your life easy. Made by Crock-Pot, this model features a locking lid with an extra gasket that will keep things from getting messy if you transport it somewhere. The timer lets you select cook times of as little as 30 minutes and as long as 20 hours. When time's up, the pot automatically switches to the warm setting.
For Keeping an Eye on the Temperature
Why We Chose It If you want to be sure the meat is cooked to a specific temperature, this Hamilton Beach slow cooker has the feature you want – an attached temperature probe that allows you to monitor the temperature as the food cooks. Whether you're cooking for a set time or a set temperature, the cooker automatically switches to the warm cycle when it's done. You can clip the lid in place when you want to carry the pot to a party or tailgate gathering. Both the lid and crock are dishwasher-safe.
The A Small,Budget-Friendly Option
Why We Chose It The Elite gourmet slow cooker comes at an amazingly low price that makes it an excellent entry-level choice. This 1.5-quart unit is the right size if you live alone or cook mostly for one or two. At this price point, you get the basics – which means there's no timer, you just set it on high or low and turn it off when the food is done. There's also a keep-warm setting. The lid and crock are dishwasher safe, and the knob and handles stay cool while food cooks.
For Bigger Crowds
Why We Chose It If you cook for crowds, this 8-quart Crock-Pot will allow you to prepare enough food for 10 or more people at once. You can set the digital timer for up to 20 hours of cook time, and once the time's up the pot will switch to warm mode. Unlike the clunky-looking slow cookers you might have grown up with, this one features black stainless steel that'll look at home in any modern kitchen.