4 Cloud Services You Need to Get a Grip on Your Data
Take control of your data without breaking the bank.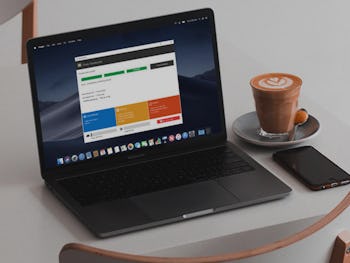 StackCommerce
When you want to backup your data or offload huge files to free up space on your hard drive, the Cloud's the solution. More than ever, users and businesses are relying on the Cloud, and now it's cheaper and easier than ever to set up your own personal Cloud so you can get all the benefits of online storage, including the ability to access your files securely from anywhere without worrying about running out of hard drive space. Take a look at these 4 Cloud services that will change the way you use and manage your files.
Here's a simple cloud solution that's both flexible and cost-efficient. For just $19.99 you can enjoy a lifetime subscription to Koofr. View all your files in one place by connecting your existing cloud accounts (Dropbox, Google Drive, Amazon, OneDrive) and transfer files to external clouds with no limit. Koofr is an awesome cloud management service and a lifetime subscription normally costs $270, so this is a great deal at 92% off.
CloudMounter is a tool that lets you easily mount clouds services like Dropbox and Google Drive as if they were disks right on your head drive. Easily access your cloud storage as an extension of your hard drive without having to open extra windows and applications. CloudMounter also features advanced encryption to keep your files safe. For just $19 you can get a lifetime license and use the Cloud like it's located on your computer.
Want to free up space on your hard drive? How about you send those huge files you download directly to the cloud? TransferCloud is a file transfer service that allows you to download torrents and URL files straight to your personal cloud (Google Drive, OneDrive, DropBox and more). You can download 2 files at once and queue up more items for later, and transfer huge files of up to 10GB — all with unlimited bandwidth! A lifetime subscription to TransferCloud should normally cost $1,000, but now it's on sale for 92% off so you can get it for just $79.
Computers are great tools, but they're not perfect. They can be stolen, broken, and hacked, and you can lose years of valuable work and personal data in an instant. Zoolz Cloud Backup is a reliable and inexpensive way to feel secure. Zoolz lets you automatically backup all your files with ultra-secure AWS infrastructure in case of an accidental deletion. A three-year subscription is available for $34.99 and comes with a huge 1TB of backup so you'll never run out of space.
Like this deal? Check out Vault — you'll get four premium tools, including NordVPN and Dashlane, to supercharge your online security. Try it free for 14 days now!
Prices are subject to change.