5 Gaming Accessories That'll Upgrade the Way You Play Video Games
With these essential gaming accessories, you'll enjoy gaming more than ever.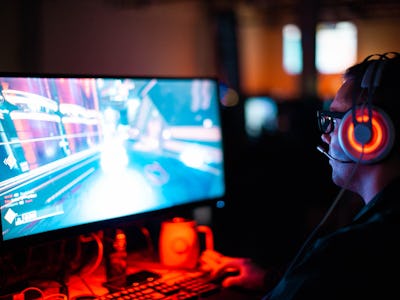 Unsplash / Sean Do
Whether you game professionally, leisurely, obsessively or just kind of dabble in the gaming experience, great gear is essential for a positive experience. I'm not a huge gamer myself, but I've spent years around people who spend more time in front of their television and computer screens than they spend at their full time jobs and through that I've learned a few things.
First, you need a console or a PC. I'm not going to pretend to be an expert on the difference between the two, but you know which one you prefer. After you solidify your position as the holder of the highest internet speed available so that you never lag out, there are a few essential accesories that can make every gaming session pleasant and worry-free so that the only thing you have to focus on is winning the game—and not whether or not your battery is about to die.
For Charging Both Your Controllers At The Same Time
Why We Picked It: I have a friend who's controller is constantly dead or mostly dead. And what happens? It dies at the absolute worst time imaginable. So what did I get him for this birthday this year? This amazingly affordable wireless PS4 controller charging dock with included battery packs. Never worry about which controller you're going to charge with your console's USB port again and instead, stay prepared with 2 fully charged controllers brilliantly displayed exactly where you need them.
For Staying in The Zone
Why We Picked It: When it comes to gaming, you want to stay as in the zone as possible. If you have thin walls, live in the city or have roommates, the last thing you want to hear is anyone else's activity. By the same token, you want to be considerate of anyone else that might exist within your space while still giving yourself a fully immersive experience. These stylish over-ear wireless headphones stand out amongst all the competition in no small part because of the virtually indestructible steel frame and Steel Flex headband covered in durable vegan leather.
For Seeing Everything and Missing Nothing
Why We Picked It: Ease of use is paramount when it comes to good technology. Not only does it have to work, but you have to be able to use it easily. With Plugable's full size keyboard, all you have to do is plug it in and you're ready to play. Made specifically to be a gaming keyboard, it features backlit keys, ergonomically sculpted keys and anti-ghosting technology that picks up on multiple key presses and eliminates accidental clicking to pave the way for a truly streamlined PC-gaming experience. Its lightweight but durable construction, combined with the Plug & Play functionality make this an excellent portable keyboard.
For An Additional Charging Boost When You Need It
Why We Picked It: For those that travel a lot, spend time in airports or just like the convenience of portability, this portable power bank from Renogy is the accessory you should never leave your house without. It includes an AC power port for easily powering your laptop, charging your controllers in the middle of a game when you can't plug back in and can even charge your phone at the same time. Built-in air vents and dust control keep this super charged power bank cool, working efficiently and working for many years to come.
For Sweaty Handed Gamers
Why We Picked It: Do you struggle with sweaty hands while you game? Does the tension and the rush of competitive gaming get your blood flowing and hands sweating? To keep your controller in your hands where it belongs, consider the enhanced grip of this silicone anti-slip controller cover. With Super Fit design, it fits perfectly over your controller for a snug fit that doesn't slide while also protecting your controller from scratches and drops. The studded surface allows for additional grip performance and the included thumb control grips allow you to pick your preference and replace them as needed.