The 10 Best Burning Man 2015 Projects, and How They Work
Radical artists + a week in the desert = electrifying stuff.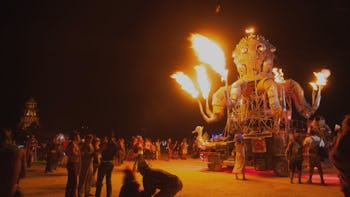 Ian Norman
Burning Man isn't just that week where Silicon Valley techies get sunburns and trip balls in Black Rock Desert at the end of the summer. It's also a place where artists and creatives from around the country show off some of the more fantabulous ideas and works that have percolated in their heads and studios. Critics do not have the same standing in the desert: Artists, hackers, makers, engineers, and whatever else they do or do not want to call themselves are free to celebrate the stranger side of their creative minds.
You can find hundreds of installations set up around Black Rock City during Burning Man. Here are a few of what we think are the most audacious and coolest projects around this week.
Arborealis forest
Created by Noam Turgeman and other collaborators, Arborealis is basically a set of three 15-foot high artificial trees made of recycled steel, complete with a root system and shady canopy. The artists say it's inspired by "redwood forest clusters, acacia trees and a rugged, steampunk sensibility, the trees create a space for play, while invoking a connection to nature." There are glowing mushrooms, exotic lights and sounds, as well as hammocks. At night, the forest becomes a cosmic sensory experience, where visitors' movements dictate what's seen and what's heard.
Chiromancy
A part of Burning Man 2015's "Carnival of Mirrors," Chiromancy is a collaboration between the Freakeasy and Idea Fabrication Labs. The two art and design groups erected two 12-foot-tall sculptures of what are essentially giant arms, lit by colorful LEDs. Watch a time-lapse of the construction here:
The Endless Prospect of Life and Wonder Biodiversity Sphere
A 60-inch spherical fire bit carved out and showcasing 35 different endangered species from around the world — complemented by scientific information for those interested in learning more. And it looks absolutely mesmerizing to boot.
Equanemone
Burning Man isn't just a chance for you to express the true you. You also get to immerse yourself in the minds of other people — or even other organisms. At least that's the idea with Grant Patterson's Equanemone. An array of tentacles hangs from the ceiling, each with its own LED system. Visitors to the installation are asked to walk through and the tentacles like a clownfish would swim through a sea anemone. The thing has its own sound, video, and light displays to mimic the slow, colorful journey a fish would experience in the deep ocean. It's incredibly ridiculous, very Burning Man.
The Field of Echoes
Artist Sean Coffin's sound installation creates a landscape of altered acoustics through a layout of small metal pills scattered over an 80-foot area. The pillars create a reverberation in any emitted noise that results in a surround-sound experience in the middle of the desert.
Include the Cleu
This installation's creators have a really big goal in mind: "to provide a moment to fully experience what it means to be conscious on planet Earth." How do they plan on doing that? A rudimentary labyrinth where participants walk in circular paths meant to represent synchronicities between life, earth, consciousness, and the universe. You will almost certainly have to enter this with an open mind, but if you do, the effects could be something very, very special.
Interstellar Emissary
The Interstellar Emissary is meant to act as a beacon for space travelers (i.e. aliens). The installation will also play the Voyager spacecraft's Golden Record — a collection of sounds from Earth meant for extraterrestrials to pick up and listen to.
Plastic People
A large 3D printer takes digital scans of visitors and uses them to create human figures made out of recycled plastic. Or put another way, human clones are made out of plastic bottles. Welcome to the uncanny valley.
Soul Refuge
THEY COLLECTIVE have been working on this concept for a while now, and precursors have appeared at previous years of Burning Man. At a distance, the structure looks like an abandoned house damaged in some kind of disaster. Up close, you realize the house is composed of human bodies. The work is a rumination of life and death — heavy, but haunting.
Super Pool
Super Pool is Jen Lewin's artificial ecosystem of incredible light and color. It's like a giant paint canvas, where visitors can arrive and interact with the system and "paint" their own effects into the area. Every night, the Super Pool will turn into an amazing interactive dance floor, welcome to all.