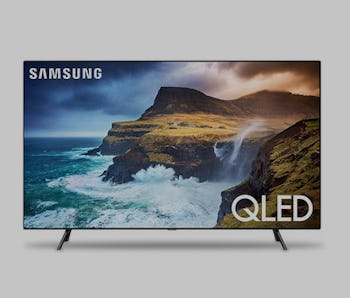 Innovation
Win a New TV and Save on These Necessary Accessories
Get A Brand New Samsung Q70 Series Smart TV For Free
StackCommerce
Want a brand new TV? How about a massive 65-inch smart TV with 4K resolution? Let's say it also features Amazon Alexa and Google Assistant compatibility so you can control it with your voice. You can get this awesome new fully-featured TV for the very reasonable price of… Free.
Right now the Inverse Shop is giving away a Samsung Q70 Series Smart TV — for free! No catches or entry fees, just sign up and you get a chance to win. Normally this awesome smart TV costs $2,198. It's not cheap, but that's because it's one of the best out there. Don't miss out on your chance to get this Samsung Smart TV in your living room, it won't cost a thing and only takes a second.
Now that you've got your TV situation settled, you'll need some accessories for it. So here are some accessories that'll improve your viewing experience no matter what TV you've got.
Rveal Digital Indoor HDTV Antenna
Time to cut the cord? The Rveal Digital Indoor HDTV Antenna gives you instant access to local channels including news, weather, and sports without those expensive monthly fees. You can watch TV with higher picture quality than cable or satellite with this Rveal's advanced 4K signal filtration, and get crystal-clear content with its 50-mile multi-directional range and quality amplifier. You can get free TV channels for only a fraction of your normal cable bill, this HD antenna is just $19.99.
Have a TV with HDMI ports but your laptop doesn't have one? No problem. Get a CHOETECH USB-C To HDMI Cable and start watching movies from your laptop in high-quality resolution. This 6-foot long cable provides a consistent connection with its gold-plated connector and heat-insulated premium alloy casing. Connect your laptop to your TV with USB for only $16.99.
LG B8 Series 55" OLED 4K HDR TV
If you haven't gotten a new TV in a while here's your opportunity to get the best and save money on it too. The LG B8 Series 55" OLED 4K HDR TV is a high-tech, feature-packed behemoth with an intelligent processor that enhances the image for an ultra-clear picture. It's slim and perfect for wall-mounting and is Amazon Alexa and Google Voice compatible so you can control your TV with your voice.
The LG B8 Series 55-inch OLED 4K HDR TV usually costs $2,299.99 — but right now it's available for more than $1,000 off after massive 47% price drop. You can save tons if you purchase this awesome TV now for $1,199.99.
KlikR Universal Remote Control
Here's your chance to get rid of all those cumbersome remote controls all at once. The KlikR Universal Remote Control is an incredible device that can simplify your life in moments. Just stick this tiny Bluetooth device on or next to any infrared remote controlled electronic device and it's easily controllable from your smartphone. TVs and even fans or air conditioners that use remote controls can be utilized.
Not only can you use your phone to control these devices, but you can also use your voice and simply tell the TV to turn on or switch channels. The KlikR Universal Remote Control is currently on sale for 31% off and you can grab one for just $19.99.