Stop Swiping and Find Love With a Personalized Face-to-Face Dating Service
It's Just Lunch has been creating successful relationships for over 28 years.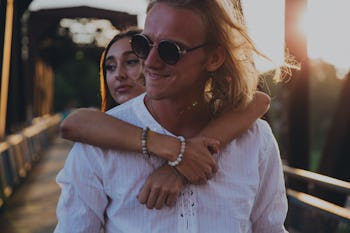 Photo by Brodie Vissers from Burst
In the age of dating apps, it feels like falling in love is impossible. From meeting a like-minded person to moving things off the app and into the real world, there's something impersonal about swiping for a companion. In fact, even though dating app usage is on the rise worldwide (more than 25 million people are expected to turn to apps to make a connection), analysts predict a slow-down in their growth. This is, in part, thanks to the market being flooded, and a lower number of new users joining the swipe generation. But it's more than simply a numbers game. Apps don't provide that special sort of human touch that gives people a really great chance at meeting and having chemistry. If you're done with the apps and want to move things into the real world with a dating service.Which is where It's Just Lunch comes in.
The professional matchmakers at It's Just Lunch love what they do- and that's what makes them extraordinary. They understand how important discovering chemistry is to their clients. Their goal is to get you face-to-face with someone you can really click with and let you take it from there. And while online dating sites leave the work to you, the It's Just Lunch matchmaking team not only selects your matches, but also coordinates the entire date. This way you can focus on more important things, like getting to know that special someone.
It's Just Lunch is a professional dating service that takes the legwork out of meeting your special someone. The process begins by setting you up with a matchmaker who peels back your layers and gets to know you. Then they take that information and implement the It's Just Lunch signature matchmaking process. It's top-secret but elicits amazing results. This is because the pros behind It's Just Lunch have meticulously fine-tuned it over the past 28 years, resulting in a dating experience personalized just for you.
The Dates
It's Just Lunch matchmakers believe the only way to tell if you have chemistry with someone is to meet face-to-face, so they'll arrange a low-pressure lunch date for you and your match. Think of your matchmaker as your dating concierge and leave the details to them. The It's Just Lunch matchmaking team will arrange everything, including the time and place – and they'll even make the confirmation call. And if lunch dates don't work for your schedule, no problem. Your matchmaker will happily arrange after-work drinks or even a weekend brunch. Their goal is to always create an environment that makes getting to know your match as easy and as fun as possible.
The Feedback
After your date you check in with your It's Just Lunch matchmaker and tell them how things went. If you make plans to get together again with your date – or if you even think they may be "the one" – GREAT! But no matter how your date goes, it's important you give feedback. Sharing your impressions, likes, and dislikes only helps to fine-tune the process. Everything you share helps your matchmaker hone-in on what you want and need, so in this case, sharing really is caring…about your love life. And if there is a love connection, let your matchmaker know so they can put your account on hold. Of course, not every match is a success. But It's Just Lunch matchmakers know their signature dating approach will renew your excitement and optimism about finding someone special. Because of this, they'll be ready to stack the odds well back in your favor. So, no sparks? No problem. Your matchmaker will get to work arranging your next match.
If what you seek is a genuine connection, the professional matchmakers at It's Just Lunch have got your back. Not only do they find your matches, setup dates and get feedback from you, but they're also discreet. They will always respect your confidentiality and only share your first name with potential matches. They never reveal your address, last name, phone number, email address or where you work. So you can feel safe to reach out and start the process of finally falling in love.