'Empire' Season 2: What to Expect
We take a peak into what to expect for the upcoming season of 'Empire'.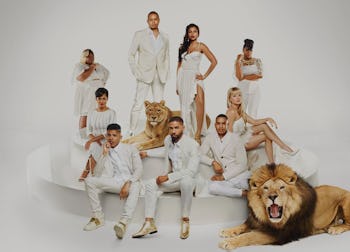 Empire, Fox
Empire season is approaching. The first season of the show was a smash hit for Fox with each successive week growing in viewers, eventually peaking with the finale watched by 23 million people. The hip-hop soap drama was endearing and relentlessly entertaining to watch, with plot twists coming every 15 minutes and guest appearances (Cuba Gooding Jr.(!), Snoop Dogg, Jennifer Hudson) worthy of multiple split takes. The show is coming back on September 23 at 9 p.m., so we wanted to give a quick preview of what to expect from the new season.
Where Is This Story Going?
The first season of the show ended with Jamal given the keys to the Empire. Cookie finds out that Lucious killed Bunkie. And Lucious ends up arrested during his legacy concert that he was going to use as a way to rebuild his career. There are 500 other plot threads that will come to roost, but these are the main ideas right now.
The first season ended with Lucious in jail, but knowing the show, he won't be there for too long. Yet while he is there, it'll be interesting to see what Empire records looks like with Jamal leading it, as Cookie spent the entire season grooming him for this role. No person ever appears content unless they're at the top. And nearly every character that was within the Empire saw themselves at the throne.
New Faces Enter The Empire
Kelly Rowland will be appearing on the show as Lucious' mother. Though it's amazing that Rowland won't be appearing as herself, what's more exciting is that Lucious' backstory will be highlighted more as his days as a drug dealer were constantly referenced, but little about the life he lived before then.
There are a number of real life cameos that are sure to raise an eyebrow, from Chris Rock to Al Sharpton, who'll one can assume will be speaking about the ill of rap music — but maybe he's a good friend of Lucious from back in the day. That combined with Marisa Tomei being given the greatest casting headline: "Empire Signs Marisa Tomei to Play Lesbian Billionaire in Season 2," should mean at least that within some of the announced casting there are some good twists and turns to go along with the season.
New Season, New Bangers
Last season included a couple of certified bangers "Drip Drop," "You're So Beautiful," and "What The DJ Said." But much of the music was hit or miss, which is fine because not every song can be great. With a name like Timbaland behind it, though, the quality could've been better. Season 2 is gaining a new music producer in Ne-Yo, who's made R&B hits for well over a decade, so his addition is a sign for applause. With musical guests like Pitbull, Mariah Carey, and Alicia Keys just waiting in the wings, the music of the second season is already looking like it'll be ready to surpass the first.
Maybe this season we'll finally get the explanation for why Lucious appeared in Ashanti's "Foolish" video over 10 years ago.