4 Products That Will Change the Way You Pack for Travel
Fit More Stuff Into Your Travel Bag And Improve Your Vacation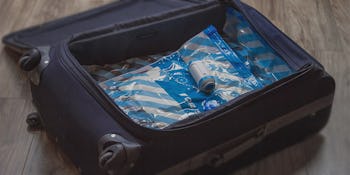 StackCommerce
The biggest part of preparing for a trip after you've booked accommodations and travel arrangements is the packing. There's only so much you can bring, and no amount of special folding techniques is going to change that. Instead, check out these 4 products that will massively improve your travel bag by giving you more space, security, and convenience that you'll get out of your old travel gear. Safe travels!
How is it that no matter how big of a luggage case you get, you never seem to have enough room? No amount of folding and squishing will get that last outfit in, but this vacuum pump will do the trick. The Dr. Save Vacuum Travel Kit can reduce the size of soft goods like clothing or blankets by up to 70 percent. It removes air and compresses items inside the included reusable vacuum bags.
You can upgrade your checked bags to carry-on when you pack them this tight. This vacuum is useful even when you're not traveling because you can pack away bulky winter coats or towels and save space. It's usually $69.95, but you can grab it now for just $39.99.
Genius Pack G4 Carry-On Spinner Case
When you're taking your valuable electronics and clothes abroad, you ought to get the best case to carry them in. The Genius Pack is a carry-on size that's abrasion-resistant, water-resistant, and UV resistant, so you can be sure your valuables are safe. It's also great for packing, with patented compression technology that packs your clothes up to 50% tighter.
The Genius Pack includes 17 features built-in, including an expandable zipper that increases space by 25%. It was even awarded Best Carry On Bag by both Travel & Leisure and Fodor's Travel. This deluxe travel case normally costs $298, but you can save 33% and travel in style when you get one for only $199.
No matter how safe you believe the place you're traveling to is, you can never keep an eye on your luggage 100% of the time. Get this smart travel lock and rest easy knowing your expensive gear is locked away tight. The AirBolt Smart Travel Lock is the first Bluetooth smart travel lock. It communicates with your smartphone via the app so you can unlock with the push of a button.
The AirBolt Smart Travel Lock was funded on Kickstarter and won the Good Design Award from Good Design Australia, so you know it's a high-quality lock. Even when you aren't traveling, this TSA-compliant smart lock is great for keeping your valuables safe. It normally costs $54.95, but now you can save $10 and grab one for just $44.95.
This luggage shelf is invaluable for frequent travelers. Whether you're staying in a hotel, Airbnb or guest room, you can hang up this packable luggage shelf and get convenient access to all of your items. It packs up easily in 10 seconds flat for extra convenience.
Stop leaving your clothes bunched up in your case and instead take this foldable shelf wherever you go. It's usually $199, but you can grab one for 67% off for just $65.