5 Emergency Earthquake Tools That Everyone Should Own
Stay Safe When All Goes Wrong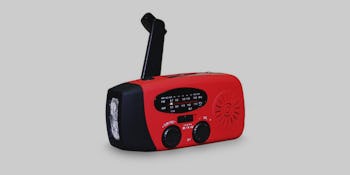 StackCommerce
by: Derek Ganter
Earthquakes are unpredictable. Not only is their timing impossible to foretell, but so is their power. Large earthquakes are capable of downing power lines, damaging roads, and even destroying buildings. Since there's no telling when one of the major fault lines might produce a powerful earthquake, the best way to prepare is to have an emergency kit ready in your home, office, and vehicle. Here are two items that are absolutely essential to have on hand in case of an emergency.
Emergency Multi-Function Radio & Flashlight
In any emergency situation, communication is key. In the case of an earthquake, your neighborhood may lose power, and nearby areas may be unsafe to travel to. To stay updated even without the electric grid you can use this Emergency Radio & Flashlight. It features a multi-band tuner so you can catch AM, FM, and WB radio as well as a super bright LED flashlight. This Emergency Multi-Function Radio & Flashlight is normally $89.95, but right now you can grab one for 68% off the retail price, for only $28.
Collective Carry Glowing Vials
When there are no lights for an extended period of time, you'll need a self-sustaining light source. The X Vial can provide hours of light after just 10-15 minutes of light exposure each day. Add it to your keychain for a cool conversation starter that will become an extremely useful tool in the event of an emergency. Typically $34.99, you can save 37% when you get one for $21.99 today.
It always pays to have a multi-tool on hand, whether you need to make a quick fix around the house or you need a bottle opener in a pinch. However, in an emergency, this innovative little keychain add-on can be a real lifesaver. It features an enclosed serrated edge, multiple wrenches and drivers, and many more useful tools. Get it today for 58% off at $22.99.
ionnight Negative Ion Generator Night Light
The air may get nasty in a natural disaster and, while it may not completely save the planet, the ionnight can help give you a safe space to breathe. More importantly, this negative ion generator can just improve your day-to-day life by cleaning the air you breathe, producing more than 5 times more negative ions than other ionic generators on the market. Save 19% off today when you get it for $39.99.
Charby Swift 10,000mAh Portable Charger
When the power fails it's good to have a compact and reliable power bank to keep your devices charged. More than any other time, in an emergency you'll want to keep your family and friends aware of the situation, as well as be able to reach medical or police resources if necessary. Keep your phone charged with this powerful 10,000mAh portable charger. It features Qualcomm QC 3.0 fast charging and is able to power up to 3 devices at once. The Charby Swift 10,000mAh Portable Charger normally sells for $49.95, but right now there's a 13% discount so you can get it for $42.99.