4 Tools for Preparing Bar-Quality Drinks at Home
You don't have to go to a bar to have a great drink.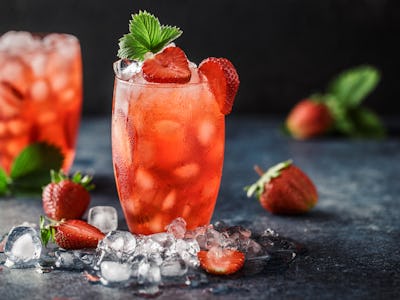 Shutterstock
Going out for a drink is expensive. Point me in the direction of any decent cocktail cheaper than $14, wine less than $12 or beer less than $6. I'll wait…
It shouldn't take a laborious google search to get a drink that doesn't cost and arm and a leg. But for those that like to enjoy a nice drink and are entering the period of their lives where staying home has steadfast become the more attractive option, you don't have to sacrifice in quality just because you're not a career bartender. Amazon has a number of amazing bar tools that'll pay for themselves after just 3 drinks not bought at a bar. It's a compelling argument.
You could even further stylize your house with the addition of a bar cart, vintage coffee table or well-stocked cupboard. Not only that, but you can invite people over to enjoy staying home with you and then everyone's saving money and social energy.
Below you'll find my favorite at-home bar accessories for making great drinks at home.
Pretty Much Everything You Need
Why We Picked It: First of all, look at it. This highly reviewed elite bartending kit is made of stainless steel and comes complete with a bamboo stand for easy storing and will complement any existing decor without becoming ostentatious. Everything is rustproof and dishwasher safe and this kit includes a 24 ounce cocktail shaker, mojito muddler, mixing spoon, jigger, Hawthorne Strainer, corkscrew, 3 liquor pourers, 2 brushes, 6 caps, ice tongs and 2 reusable bottle stoppers.
Wine, but Better
Why We Picked It: I grew up in a house where wine was only second to coffee and water and it was always a close race. Everyone in my family always had one of those 3 drinks in their hand and when my time to choose came, I quickly picked up on a lifelong love of wine. And with it came a lifelong struggle with headaches. And then I found the Üllo. Conveniently sized to sit well on the included carafe or any other glass, this wine filter meets aerator comes with 6 filters that will remove the sediment, sulfites and other preservatives so you drink your wine the way it was intended.
the Book That Will Bring You Up to Speed
Why We Picked It: You don't have to have bartending experience to make the drinks you love. This eye-catching book is full of 100 recipes for making classic and modern interpretations of drinks including but not limited to recipes for essential spirits, liquors, wines, whisky, rum, gin, vodka, tequila and more. Keep this book close to your bar ingredients and allow your friends to check out the "menu" so everyone can try something new or an old favorite they're sure to love.
Premium Ingredients
Why We Picked It: When I make drinks at home, I'm always running out of my must-have ingredients because I didn't buy enough limes or I forgot triple sec. But with this essential bar set, all the must-have drink mixers are included without the extra ingredients found in other mixes and in a 1-liter quantity that actually makes sense for people who don't want to run to the grocery store more than absolutely necessary. Included in this set: Sweet & Sour, Grenadine, Bar Syrup, Blue Curacao, Lime Juice and Triple Sec.