New Zealanders Are Fired up About New Flag Finalists
The referendum is in November, but the country may dissolve because of a social media civil war before then.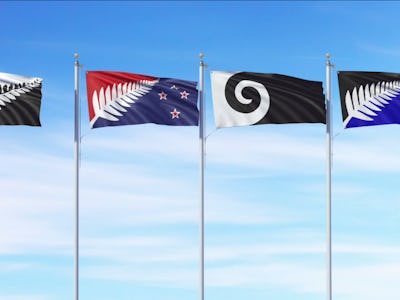 www.govt.nz
In November, New Zealand will vote in a countrywide referendum to choose a new flag. Apparently, the current flag reminds Kiwis a little bit too much of Australia's current standard. For some humorous background information on the subject, we'll defer to the great John Oliver:
This morning the country's Flag Consideration Project whittled the results down from the over 10,000 submitted designs for a shortlist of four finalists. Unfortunately, neither of Oliver's picks nor our favorites were chosen. The finalists are:
1. Silver Fern (Black & White)
2. Silver Fern (Red, White, and Blue)
3. Koru
4. Silver Fern (Black, White, and Blue)
Most of the designs feature the silver fern, New Zealand's unofficial emblem, while the last depicts a Koru, or a Maori symbol of creation in the shape of an unfurling frond. It seems like a great little contest meant to claim a new identity for the little country down under, but it has a lot of New Zealanders up in arms.
The campaign to change the flag, initiated by prime minister John Key, has cost the country nearly $26 million. With 53 percent of voters against changing the flag and a 67 percent chance that the country will keep the old one, some Kiwis are not pleased.
Who knew people could get so angry about a flag with a leaf on it?