Something Wicked This Way Comes: New 'Macbeth' Trailer Enters Long Line of Adaptations
The upcoming Fassbender version has some fierce (and not-so-fierce) competition for the throne.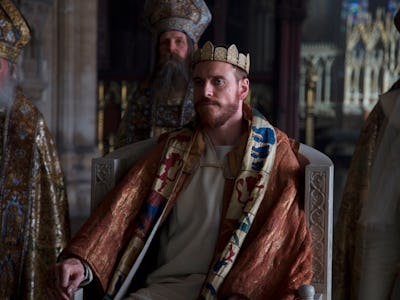 www.twcpublicity.com
The Weinstein Company has just unveiled the spooky but stylish U.S. trailer for the upcoming gritty adaptation of Macbeth. Directed by Australian Justin Kurzel, it features Michael Fassbender in the title role and Marion Cotillard as Lady Macbeth. The movie looks like a fairly stunning update of the 400-year-old story.
It had critics fawning over it when the film premiered at Cannes in May, and with an early December release it looks to be positioned as an awards contender. Don't forget that it's also a sort of dry run for next year's Assassin's Creed adaptation, which will also feature Fassbender, Cotillard, and Kurzel.
With equal focus on the intense performances and the vivid production design, Kurzel's adaptation seems to set up a nice dichotomy between the inherent theatricality of the story and the need to be cinematic — this is, after all, a movie. It got us thinking, since this Macbeth is as classic as it is modern, what do some of the other Macbeth adaptations look like? Here are a few choice cuts.
'Macbeth' (2010)
Technically, this one isn't a strict film adaptation since it's just a recording of the Royal Shakespeare Company's performance of the play, but you can't really go wrong with the company dedicated to The Bard himself. Though there isn't any actual footage, the trailer is abstract and moody — just what a good Macbeth adaptation needs. "Mwahaha!" is what the Three Witches would probably say.
'Macbeth' (2006)
Nobody asked for a low budget Macbeth starring Sam Worthington in a modern Australia-set adaptation, and yet here we are. This one tried to do the DiCaprio Romeo + Juliet thing by giving it a stylish spin, but it's just impossibly goofy. The harshest among us might say, "It is a tale, told by an idiot, full of sound and fury, signifying nothing."
'Macbeth' (1971)
A version of Macbeth directed by Roman Polanski and produced by Playboy? Cue the gratuitous nudity! Actually, this adaptation was made in the aftermath of the murder of Polanski's wife, Sharon Tate, at the hands of the Manson Family, and the somber hurt and hate bleeds onscreen. The ultraviolence reminds us of what Kurzel's Macbeth looks like. Surprisingly, Polanski's go is one of the best big screen Macbeth adaptations there is.
'Throne of Blood' (1957)
Japanese master director Akira Kurosawa's version of Macbeth — called Throne of Blood (a.k.a. the most brutal title ever) and starring his longtime collaborator Toshiro Mifune in the equivalent role — substitutes Scotland for feudal Japan. It may look dated but don't let the black and white fool you, it's a smart and sleek telling of Shakespeare's best tragedy.