Here's the First Look at Michael Fassbender in the 'Assassin's Creed' Movie
He certainly looks assassin-y.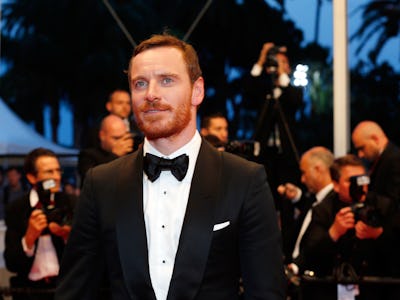 Getty Images
Yahoo Movies has posted the exclusive first look at actor Michael Fassbender as Callum Lynch, the lead character in the film adaptation of Assassin's Creed.
Wait, Callum who? Fans of the massively popular video game series haven't met Lynch yet because his character, and the storyline of the movie, won't be based on any of the previous Assassin's Creed video games.
Instead, the filmmakers have decided to come up with a completely unique storyline with all new characters. The story involves Lynch unlocking genetic memory technology to somehow experience the recollections of his 15th century ancestor, only to discover he is a descendant of a mysterious society of assassins. He then uses that technology to battle the Knights Templar in the present day.
This sounds like the greatest idea ever — or the dumbest idea ever.
Directing Fassbender will be Justin Kurtzel, the filmmaker who previously worked with the actor on his upcoming gritty retelling of Macbeth. Joining them will be Marion Cotillard (who is also in Macbeth), Michael Kenneth Williams, and Arian Labed — all in undisclosed roles.
This may be the first photo, but we're getting some serious Prince of Persia vibes from this property, which isn't a good thing. You'd think that with Fassbender on board it may give the movie a chance to be an actual good video game-to-movie adaptation. But just because Fassbender signs on the dotted line doesn't mean you'll get guaranteed gold. Jonah Hex anyone? Still, we're willing to give this one a shot based on the badass photo alone.
We'll find out if the movie itself is any good when Assassin's Creed hit theaters on December 21, 2016.