Want Cold Brew at Home? Try These 4 Great Brands
You can make cold brew at home to your exact liking without a whole lot of effort.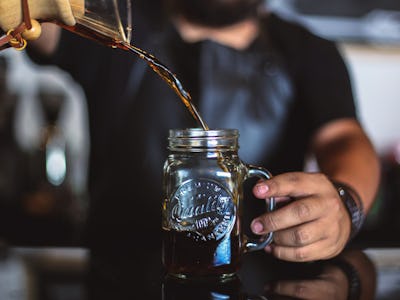 Unsplash / Daniel Curran
Now that it's summer, you may have found your coffee drink has switched to its iced counterpart and there's no shame in that game. There are few people I know who are interested in taking their usual hot cup of joe with them into the 90-plus degree world. If you're like the rest of us who prefer the refreshing nature of a cold caffeinated drink during the hot summer months that doesn't mean you have to make your coffee the night before or leave it out to get cold before you add ice to it. And it doesn't mean you have to forego the time-saving nature of making your coffee at home either.
Instead, you can invest in a compact, but easy-to-use appliance that allows you to make your own cold brew at home—exactly how you like it. Below, you'll find my 4 favorite at-home cold brew gadgets that you can purchase on Amazon.
The One That's Brilliantly Portable
Why We Picked It: This summer when you're asked what you're bringing to the party, you can say cold brew. With this amazing insulated Portable Brewer, you can make up to 32 ounces of high quality cold brew that isn't diluted by ice, cold water or time. Easy to clean and dishwasher safe, you can make your week's cold brew at once and have it in your fridge for easy access.
The One That's A Best Seller
Why We Picked It: This cold brew maker meets pitcher is ultra-convenient for making and pouring yourself the perfect glass of cold brew. Made from BPA-free plastic with a silicone handle, this premium cold brew maker is a great option for the clumsy as it won't shatter on the off-chance it's dropped. The included fine mesh filter will keep your cold brew from taking on the not-great flavor of errant coffee grounds in your drink.
The One That Also Makes Tea
Why We Picked It: Not only is the DRIPSTER² ultra-stylish and engineered to the highest functionality by Germans, this amazing cold brew maker includes special filter mesh up to four times finer than your average cold brew maker so you will never end up with bitter grounds or slugdge at the bottom of your drink. What's more is that it can also easily make iced or hot tea up to 4 cups, so that nothing in your kitchen only does 1 thing.
The One That Makes Cold Brew in Bulk
Why We Picked It: Whether you are hosting a brunch party where you need a whole gallon of cold brew on tap, or you just prefer the convenience of making your favorite drink in bulk, this amazing cold-brew maker meets drink dispenser makes a gallon of cold brew in less than 2 minutes and the adjustable spigot allows you to perfectly dispense and portion your ideal cup of cup brew. The air-tight lid keeps your cold brew as fresh as the day it was made.