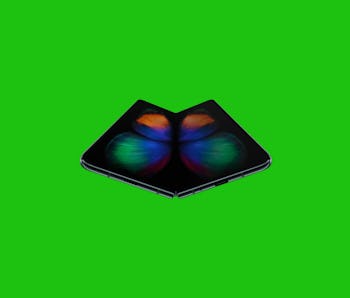 Innovation
Galaxy Fold: Samsung's Folding Smartphone Could Mount a Surprising Comeback
You may be able to pick up a working Fold this year after all.
Samsung
Samsung's first foldable phone's initial launch was a face-plant. The $1,980 Galaxy Fold, originally supposed to hit shelves in the United States on April 26, flopped instantly as many of the review units sent to reporters and YouTubers broke after a few days of use.
A now-deleted iFixIt teardown of the device revealed the central problem: The Fold's screen protector simply did not prevent dust and debris from getting underneath. That left many with the impression that the age of the foldable smartphone was yet to come, though it now looks like Samsung may have been able to resolve the Fold's issues much faster than expected.
In fact, the Fold reportedly "aced" a recent durability test conducted by a group of industry professionals and professors at the Seoul National University and Korea Advanced Institute of Science and Technology. Korean news outlet The Elec reported Wednesday that the smartphone-tablet-hybrid is "ready for launch," according to an anonymous industry source.
Samsung did not immediately respond to Inverse's request for comment to confirm the report or add any context to when the Fold might go on sale, but we'll update as soon as we hear back.
The Elec's source stated that Samsung is determined to beat Huawei's Mate X to market, which CNBC reported would be released in September. That means the Galaxy Fold would need to be launched in late July or August to beat its competitor to the punch. A rushed release would appear to be the cause of Samsung's original screen issues, but the company is hellbent to be first to market, according to an anonymous industry expert.
"Releasing the world's first mass produced foldable smartphone faster than Huawei may be a bigger deal than losing customers," said they told The Elec.
That strategy might just work. Pre-orders for the device were all booked in about a week, even after famed tech reviewers and journalists, like Marques Brownlee and Bloomberg's Mark Gurman, reported glaring issues with its durability.
As Inverse previously reported, many pre-order customers were simply happy to be among the first to try a phone like no other. But interest seems to have waned since Samsung's snafu. A post on the 500-member Galaxy Fold subreddit compared the foldable phone's launch as a "bad Kickstarter."
A second launch could be a shot a redemption for Samsung's ambitious smartphone design, and the speed at which Samsung designers seem to have fixed the problem is still impressive. But as popular consumer tech publicist Ed Zitron told Inverse "a consumer electronic company fuck up at this scale" is rare, even for devices that retail for a lot less than nearly $2,000.