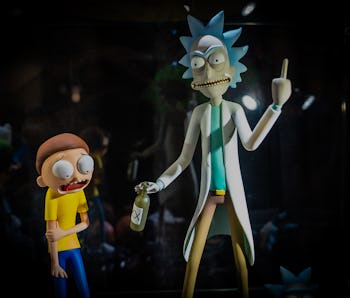 Entertainment
'Rick and Morty' SDCC Exclusive Merch Is Here — And It Riggity Wrecks
It's gonna riggidy-riggidy-wreck your checking account. 
Inverse 
Adult Swim has shown up to make San Diego Comic-Con 2019 the place for fans to check out everything Rick and Morty Season 4, bringing the Rickmobile to San Diego to sell tons of SDCC swag for fans of the hit Adult Swim animated series.
Take a look at some of the best swag for sale in this corner of the multiverse.
Rick and Morty Socks ($15)
"I'M SOCK RICK!!!" doesn't have the same annunciation as "I'M PICKLE RICK" but they look awesome.
Glow in the Dark Long-sleeve Shirt ($45)
Get lit with this glow-in-the-dark long sleeve Rick shirt. Nothing says Season 4 like turning out the lights and glowing.
Pickle RickHat ($25)
Well, we've reached peak Pickle Rick with this exclusive Pickle Rick cap. Will we see Pickle Rick in Season 4? Hat's off to that.
Rick and Morty Bomber Jacket ($155)
This bomber jacket is no joke - it's bomb. With a similar format to popular Rick + Morty marketing materials in the past - now a massive hand holds Morty captive.
Is this a tease that we will get a new title opening in Season 4?
Article continues after this related video.
Rick and Morty Toxic Skate Deck ($100) & Exclusive San Diego Comic-Con 2019 Shirt ($30)
You won't get any 'Rest and Ricklaxation' from cruising on this exclusive Toxic Rick and Morty skate deck. To do that, rewatch Season 3, Episode 6.
The shirt is just epic.
Rick and Morty Water Bottle ($22)
Drink up with Rick and Morty.
Rick and Morty Hoodie ($85)
This hoodie is straight fire. The inside of the hoodie top is an awesome design.
BONUS
Along with all this exclusive Rick and Morty merch Adult Swim has some cool other exclusive Adult Swim items - along with a mystery backpack. We will unbox the mystery backpack in another post of content soon. But so far my favorite alt is this Shake cup from Aqua Teen Hunger Force.
Rick and Morty Season 4 premieres this November.