4 Meat Alternatives Perfect for Anyone Interested in Trying to Go Vegan
They might even taste better than meat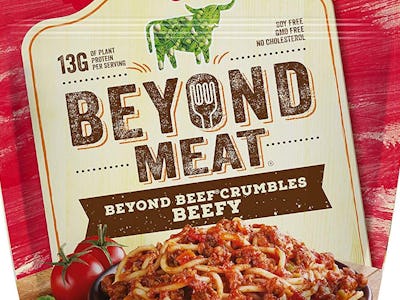 Amazon
Whether you're trying to go vegan for the first time or for the hundredth time, you can never make things too easy. After all, changing your diet is hard. But fortunately, there are tons of vegan alternatives to foods that may just make you forget you're not eating meat. These are some of our favorite options to try whether you're experimenting with going vegan, or have been finding it a challenge.
1. Beyond Meat, Beefy Beef-Free Crumbles, 10 Oz (Frozen)
Why We Picked It This Beyond Meat beef-free crumbles is perfect to add to your spaghetti. It has 11 grams of protein per serving, and the texture is pretty close what you'd use for a spaghetti bolognese.
2. Field Roast, Vegetarian Grain Meat Sausages
Why We Picked It These vegetarian sausages are perfect for breakfast, or to heat up and add to a salad or a stir fry. They taste good both hot and cold, so if you're looking for a quick protein-filled snack, this one's a good option.
3. Gardein Mandarin Orange Chick'n, Meatless Protein Dish
Why We Picked It This Mandarin Orange chick'n is made from soy protein, and contains 10 grams of protein per serving. They come frozen so you won't have to worry about them going bad, but they still take less than 10 minutes to prepare.
4. Bob's Red Mill High Protein Textured Vegetable Protein
Why We Picked It This option is great if you love to cook and use different spices and seasonings in your meals. TVP stands for textured vegetable protein, which is made from soy beans. It's used as a meat replacement because the texture is similar but also doesn't have it's own taste so will absorb whatever seasoning you use. Sauces, chili and pasta are just a few ideas you can try making with this.