Secure Your Devices, Your Identity, and Your Data for One Low Monthly Rate
Vault Is The Cyber Security Bundle That Covers All Your Bases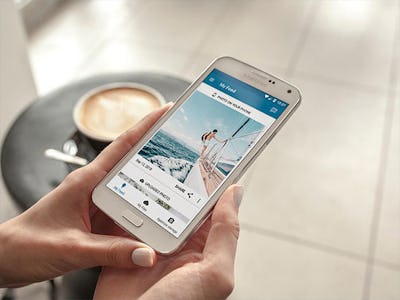 Degoo
At this point, it goes without saying that online security is extremely important. Unfortunately, there are numerous different threats, each with a different agenda and method for obtaining and exploiting your data. And while there are countless products designed to protect you online, covering all your bases against these varying threats can be extremely difficult. Luckily, there's Vault, a service that bundles together some of the best known brands in the online security marketplace and brings their protection to you for one heavily discounted monthly rate.
Vault is essentially a Fantastic Four of online security: A NordVPN to help you use the internet anonymously, Dashlane to manage all of your various logins and passwords, Degoo to back up all your important data in case of a disaster, and Panda Antivirus which protects your devices from pesky computer viruses and other forms of cyber attack.
A year of Vault will cost you $99, or just $8.25 a month. Here's a quick rundown of what that could cost you if you were to purchase these four services separately:
NordVPN:$11.95 per month
Dashlane: $4.99/ per month
Degoo 2TB Plan: $9.99 per month
Panda Antivirus: $4.99 per month
Total: $31.92 per month
And best of all, you can actually try a week of Vault's services for free, so you can see how easy it is to use, and how indispensable these four services become when bundled together. But for the sake of thoroughness, let's briefly go into each service's individual merits:
NordVPN
NordVPN is a "bulletproof security solution" that allows you to use the Internet safely, securely, and anonymously, even if you're on public WiFi. It works wherever you go in the world and even has a fail-safe function that will keep your data safe in the event of a lost VPN connection.
Dashlane
With Dashlane, you'll never forget a password again… because you won't have to remember them at all. Instead, all of your login info for your online accounts are kept in one convenient and secure place. Dashlane will also help you generate uncrackable passwords, store credit card digits, and save other online payment info. And it will automatically sync this information across all of your devices.
Degoo
We all know data backup is important, but how many of us are really prepared for the worst? Degoo gives you two terabytes of space to do just that. It also fives you extremely secure 256-bit AES encryption so you can send files with absolute peace of mind and stay secure with automatic protection and more space than offered by comparable services like Dropbox, OneDrive, & Google Drive combined.
Panda Antivirus
The antivirus system offered by Vault is Panda Dome Advanced, which is the ultimate protection against computer viruses, online fraud, ransomware, and more. It even offers data backup so you can have your most precious data stored in two places — redundancy being an important component of any worthwhile security plan.
You can try Vault for a week free and get more information on the special rate of $99 a year at Stacksocial here for a limited time. Once you do, you might wonder how you dared ever to go online without it.