Don't Miss This Amazing Amazon Prime Deal on a New Macbook
How old is your current MacBook? Is it time for a new one?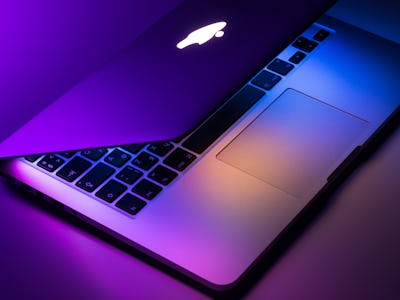 Unsplash / Dmitry Chernyshov
In my group of friends and freelancers, we also describe the feeling of overheating with anxiety in the face of deadlines as feeling like "a 7-year-old MacBook." The fan is loud. The processing is slow. And sometimes it just has to be shut down and rebooted to get the job done right. Based off of the above information, I feel comfortable confessing that I'm typing this on a 7-year-old MacBook.
I live in a kind of dream-like state of worry, wondering if next year will be the year I finally have to spend the two grand on a new laptop that has all the features I've grown to enjoy. My freelancer friends, many of which do visual arts and editing on software that only Mac OS can handle, share the same dread and financial anxiety. But then I found this deal.
For Amazon Prime Day only, you can save 30%—that's $300!!—on a 13-inch MacBook Air with 128 gigabytes of storage space. Usually over $1000, this MacBook Air features a 1.8GHz Dual Core i5 processor, has 8GB of RAM, fast SSD storage and an Intel HD Graphics 6000 card for the best picture possible.
Though it doesn't have a CD drive—who has used a CD this year?—it does have a Thunderbolt 2 port and 2 USB 3 ports so that you can hook up external hard drives, external CD drives, charge devices and connect to a larger screen with HDMI with ease.
At a whopping 2.96 pounds, this MacBook Air is the hallmark of portable computers. It won't make your commute pack any heavier and is as easy to carry under your arm as a manilla envelop of paper. With up to 12 hours of wireless battery life, you can leave the house without your charger and not live in fear of your laptop dying at a bad time.
So go on. If you've been waiting for the opportunity to upgrade, now's the time.