Kendrick Lamar Is Leading the Way for Kids with Mental Illness
By tackling emotional trauma head-on, rappers encourage kids to do the same.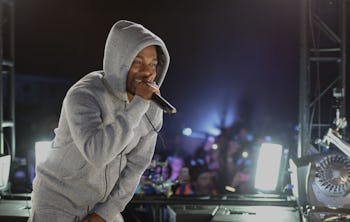 Rappers can be brutally frank about pretty much everything, as Kanye illustrated with his insane off-the-cuff speech at the latest MTV Video Music Awards. Yet they've only recently extended their candor to depression and mental health — traditionally taboo issues in the swaggering, hyper-masculine world of hip-hop. Artists like Kendrick Lamar and Earl Sweatshirt are praised for bringing genuine emotion into their music, but in doing so they've also paved the way for kids to address their own struggles with mental illness.
It isn't easy growing up with depression, especially for teenagers in troubled communities. The long, complicated history of government-led institutionalization and at-risk groups — often communities of color — has led to a mistrust of programs designed to provide help. According to hip-hop therapy advocate Tomás Alvarez, at-risk teens who suffer from mental illness — and there are a lot more than you would think — find difficulty summoning the courage to acknowledge their issues.
In 2004, Alvarez co-founded Beats, Rhymes, and Life, an organization based in Oakland, California that offers hip-hop to troubled kids as a form of therapy. Through the group's workshops, self-referred teenagers are encouraged to write rap lyrics and perform — and to focus on authenticity and introspection. But for a lot these kids, digging deep isn't just painful — the stigma associated with it makes it humiliating. It's always been much easier to project a hardcore, fearless lifestyle than one that reflects actual inner turmoil.
"At the time that I started this, Rick Ross was big. The dominant themes were misogyny, materialism, weed culture," Alvarez told Inverse. "And so of course these were the themes that dominate the youth's lyrics and most of their subject matter as well." Over the course of BRL's existence, he has encouraged young rappers to make authenticity the core value in their work. These days, he says, he's pointing kids to artists like Kendrick Lamar, a perfect example of an artist who, through his transparency about his own struggles with mental illness, is also giving kids the means to talk about it.
Referring to rapper Pharaohe Monch and his 2014 album PTSD, Alvarez stresses the importance of having an artist give a name to what they're dealing with. "Artists like Kendrick Lamar are calling it out," he says. "They're saying racism. They're saying the word. Trauma. Depression. They're actually naming it." Kids can't acknowledge their problems if they don't have the words to address them with.
Kendrick Lamar addresses bipolar symptoms head-on in "u": "Mood swings is frequent, nigga / I know depression is resting on your heart for two reasons, nigga." Heems describes his experiences with the same extreme lows and highs on "Sometimes." In "Grief," Earl Sweatshirt addresses his anxiety, admitting he's "been panicking a lot / Feeling like I'm stranded in a mob, scrambling for Xanax out the canister to pop."
Alvarez is quick to point out that hip-hop has long been a means for artists to cope with depression and anxiety stemming from street violence, drug use, and family instability. "The reality is, they've always talked about it," he says. "They just didn't call it that."
Rap industry stereotypes might be changing, but the social conditions for emotionally unstable, traumatized kids haven't really changed. It's a huge step, that artists like Kendrick and Earl, and even Future, Danny Brown, and Tyler, the Creator, are making it safer for kids to seek help for mental illness.
"It's even more amazing that artists are now speaking on it because it's been a huge taboo topic," says Alvarez. "It's pretty powerful to have artists come out and say, 'I'm actually struggling with this. I'm actually dealing with it. If you're dealing with this, you're not alone.'"