This iPad Is Nearly 40% Off for Amazon Prime Day
If you've been wanting an iPad, there is no time like the present.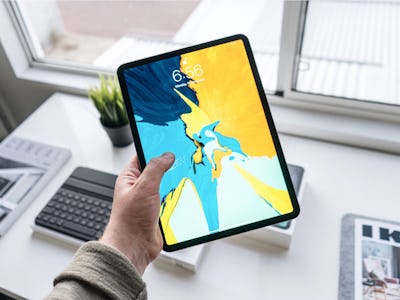 Unsplash / Henry Ascroft
iPads have been around for some time as a great tool for parents taking young kids on long car rides, professionals needing a portable screen for quick meetings and most recently, there has been a big surge in the use of them as a drawing medium for many artists. If you've been looking into getting an iPad, or interested in upgrading an older model, there is no time like Amazon Prime Day to make your dreams a reality.
For Amazon Prime Day only, you can get this 10.5-inch Apple iPad Pro in Silver, Rose Gold, Gold, and Space Gray with up to 512 gigabytes of available space. Designed to be your go-to device for all your quick sketches, digital paintings, music making, web browsing and kid games, the iPad Pro is a must-have addition to your technology arsenal. Built with 10.5-inch Retina display with Promotion, true Tone and wide Color, you won't get better definition with any of the competing tablets on the market. On the iPad, you will get the best colors, crispest lines and the most responsive touch screen on the market so that there is very little adjustment to drawing digitally compared to the traditional approach of pen and paper.
You can set a passcode for it, but with futuristic Touch ID finger print sensing keeping your tablet secure is just as easy as keeping track of your finger print. Like to listen to music while you work? Unlike earlier models of the iPad, the iPad Pro features Four Speaker Audio that can be as loud as you'd like for a fully immersive streaming experience. With the 12 megapixel back camera, you could even become one of the elite group of people who take their iPad on excursions to get the best image possible, but if that's not your flow, the 7 megapixel front camera makes FaceTiming with long distance friends, family, collaborators and co-workers a truly high quality experience. What's more is that with pre-loaded and updated iOS 12, you can FaceTime with groups, share screens and even dabble in the virtual reality experience if that's your thing.
For those that are frequently on the move and away from their home WiFi connection, you'll be pleased to learn that this deal includes Cellular data compatibility so that you can use your iPad in the same way you are able to use your smartphone's data network when you're out in the world. But act fast, this deal won't last.
Purchase the 512 gigabyte iPad Pro for $699, the 256 gigabyte option for $649 or the 64 gigabyte option for $579.