4 Fun DIY Electronics Projects for the Arduino Enthusiast
Learn And Create Using Arduino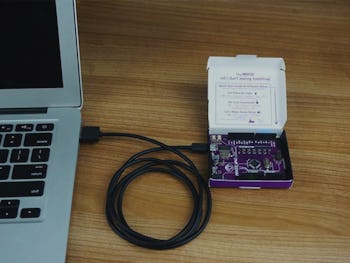 StackCommerce
Arduino boards are one of the best ways to get involved in DIY electronics and programming. With Arduino, the possibilities are practically limitless. You can build your own working robotics and tools, and use a variety of techniques and programs to customize them. If you're a DIY electronics fan you're already aware of Arduino, but even if you're just starting out these four projects are perfect for beginners and experts alike.
SunFounder Robotic Arm Edge Kit for Arduino
Having your very own robotic arm isn't just a fantasy of the future anymore. Not only can you build your own robotic arm using this kit, but you can program it too. Use the power of Arduino to customize your robotic arm and program it to complete tasks. It's not just educational, it's entertaining. Get it on sale for just $54.99.
Cytron Maker UNO Arduino Educational Kit
If you're in the middle of your STEM education or just an electronics hobbyist, you might struggle to get the hands-on experience you desire. Arduino boards are a good hands-on way to learn the essentials of DIY electronics, and with this Maker UNO Edu Kit, you can get right to the coding. Designed with an easy-to-read board and built-in LEDs for troubleshooting, this educational kit makes DIY electronics accessible and fun. Plus, at only $12.48 it's super affordable.
The Complete Arduino Starter Kit & Course Bundle
Whether you're a beginner or a seasoned Arduino enthusiast, there's sure to be something for you in this massive 7-course bundle. From the fundamentals all the way to building our own robot and learning real-world applications of Arduino, this course bundle helps you learn through a series of workshops and projects. Plus it includes a starter kit with the Uno R3 board so you can get learn with hands-on experience. The regular price for all of this is $608.94, but now you can get all seven courses including the starter kit for just $89.99.
Arduino Automatic Smart Plant Watering Kit 2.0
Here's a cool way to apply your Arduino skills to a real-world tool. Combine your love of DIY electronics with gardening with this automatic watering kit. Comes with a pump, soil moisture sensors, water switch and more. Deliver the perfect amount of water to up to 4 plants at once, and with the Arduino board and program the kit will monitor your plants' moisture levels perfectly. Get this cool automatic water kit for $69.
Prices are subject to change.