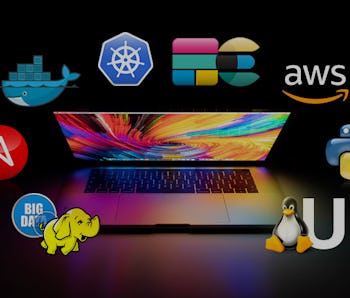 Innovation
Learn Today's Most Lucrative Skills Fast
Begin Your DevOps Career With This Rigorous Master Class
StackCommerce
The Details:
Ten course in-depth DevOps bundle
Learn some of today's most in-demand skills
Includes AWS Certification course
96% off the normal price
Why You Want It:
DevOps specialists are in-demand in the tech industry, and can easily earn six-figure salaries. The university system has been slow in producing graduates specializing in DevOps, so many are self-taught. The DevOps Master Class is designed for aspiring DevOps specialists to learn how to use essential techniques, programming languages and software at home.
DevOps, named after software development and information technology operations, is the science of continual software maintenance and updates. Using a variety of tools including Amazon cloud computing and Ansible automation, DevOps specialists help the web operate smoothly.
The Deal:
The DevOps Master Class is a bundle of ten courses and includes DevOps beginner training as well as an in-depth course for getting AWS certified. The retail value of these ten courses altogether is $990, but the DevOps Master Class bundle is available for $39.