Will Marvel Debut New 'Black Widow' Footage at Comic-Con 2019?
One interesting comment has our attention.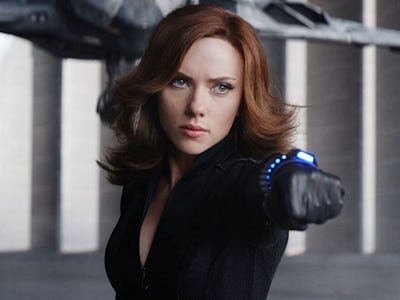 Marvel
There's a distinct possibility we will be getting some real answers about Marvel Studios' Phase 4 plans during a Saturday panel in Hall H at San Diego Comic-Con 2019. The convention has often served as the event where big announcements about the Marvel Cinematic Universe are made, so it's expected the future of the MCU will steal the show this year.
The news of an official Marvel Studios panel, combined with the promise of Phase 4 news after the release of Spider-Man: Far From Home, means that SDCC attendees could be the first to find out what the Disney-owned studio has planned for the next few years. And a new report from Variety may reveal exactly what Marvel will reveal at Comic-Con 2019.
The report, while mostly summarizing popular rumors about Marvel's Phase 4 plans, also cites an anonymous studio executive at one of Disney's rivals, who might just have some inside info about the company's plans. (Either that, or he's just speculating like the rest of us).
Here's the quote in question:
"Marvel will of course bring out the stars of its next phase, and that'll be a moment for it, but you're also using a presentation in Hall H to break a new piece of content. Getting something ready, like footage or a trailer for Black Widow, means a VFX acceleration. If it's up to two or three minutes, that can run you a million bucks."
The suggestion of Black Widow footage making its way to Hall H is an interesting one. While the source in no way confirms this is Marvel's plan, it's not the most unlikely idea in the world. Right now, Black Widow is the only Phase 4 movie currently filming (it began in May) and on its way into the post-production phase. There could be enough footage in the can to cobble together a clip reel or a teaser trailer to show at SDCC 2019. Sure, it could cost Marvel millions, but that's chump change.
There's also plenty of interesting things for Black Widow to tease or even show off, should Marvel choose to do so. In recent weeks, behind-the-scenes photos have hinted at the Black Widow villain and where in the MCU timeline the film will occur. Offering up a teaser trailer, even if it only featured footage from these parts of the film, would surely satisfy fans and spark a new wave of speculation.
Strategically, it would also be a good look for Marvel to premiere footage from a female-led film. Black Widow is not only one of the few solo stories currently on the Phase 4 slate, it's the only one with a female hero at the center (at least until Captain Marvel 2). Putting out footage focused on the only original female Avenger's origin story would be a good look PR-wise for Marvel as it begins its next cinematic chapter. It sounds cynical but hey, that's just good business.
At the end of the day, this is all up for interpretation. The words of an anonymous source hardly confirm Black Widow footage will come to SDCC 2019. But the more we think about it, the more it makes sense.
Black Widow will be released in Marvel's upcoming Phase 4.