FireTV Recast Is $100 Off on Prime Day, So That's a Whole Thing
Amazon's DVR is a cord-cutters best friend at this price.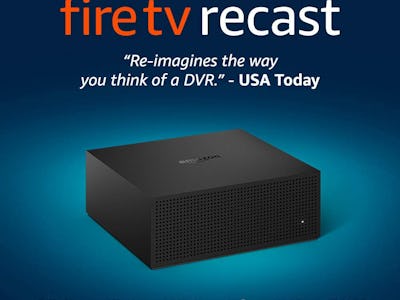 Amazon
To no one's surprise, Amazon is offering up some absolutely insane deals on it's own products during Prime Day. While there's a couple discounts from the likes of the Echo and Fire TV stick lineup, but some other, more expensive device are also getting some Prime Day love as well. The Fire TV Recast will be reduced by $100, making it a very appealing offer for people in the market for a DVR.
The Fire TV Recast is actually a pretty awesome, which is a word not often used for a DVR and is a great option for those who are looking for something to record their shows and make playback effortless across compatible devices. Record up to 4 different shows simultaneously and watch live or recorded shows on your mobile devices at home or on the go with the companion Fire TV app.
It's name should be telling that you'll have access to Fire TV, Amazon's smart TV operating system, which brings all of your favorite apps, TV channels, and streaming services into one place.
There are two versions of the Fire TV Recast that differ only in the number of TV tuners and storage capacity. The base model offers up 2 tuners and 500GB of storage, allowing for up to 75 hours of HD TV playback. If you're a TV hound, you may want to upgrade to the other model, which offers up 4 tuners and 1TB of storage, which should give you up to 150 hours of HD playback.