3 Hemp Oil Brands You Need to Try on Amazon
So many choices for brands and potency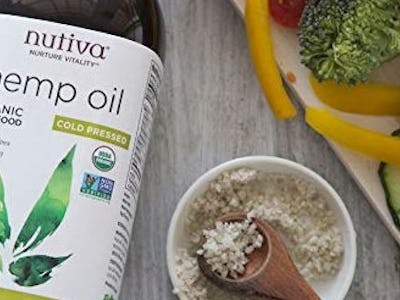 Amazon
Will any hemp oil products be on sale for Prime Day? We can't say for sure, but we do know that some health products are featured, so keep your eyes on updates.
Meanwhile, many of the hemp oil brands on Amazon give you a 5 percent discount for setting up auto-delivery, and you can choose the frequency of deliveries.
Here are some of the highest rated hemp oil brands on Amazon:
New Age
Why We Chose It This is the #1 selling hemp oil on Amazon. It's certified as both organic and pure, meaning it's free from pesticides and herbicides, and it's also 100 percent THC free. The only ingredients New Age uses are hemp seed oil and natural peppermint, and you can consume the oil straight or mix it into a beverage. Benefits include stabilizing moods, improving sleep, easing pain and stiffness, and lessening inflammation.
R+R Medicinals
Why We Chose It R+R Medicinals is a Colorado company that uses a proprietary blend of hemp to get the best results. This 1000mg extract oil is twice as potent as R+R's daily use oil and is recommended for chronic pain, inflammation, better sleep, and a balanced mood. The company uses a CO2 extraction process that helps to retain the flavonoids, antioxidants, and phytonutrients that are often lost in harsher extraction methods. That means the beneficial elements of the hemp oil are more readily absorbed by your body.
Nutiva
Why We Chose It If you want hemp oil for its amino acids and antioxidants as a supplement to your vegan or vegetarian diet, Nutiva offers a nutrient-dense, organic, cold-pressed unrefined hemp seed oil that has the ideal ratio of Omega 3 and Omega 6 fatty acids. The company purchases organic, non-GMO hemp seeds from Canadian farmers who use sustainable farming methods and packs its products in BPA-free packaging. Use this hemp oil in foods like salads, smoothies, and pasta, but it should only be heated gently and isn't suitable for frying.