4 Portable Chargers You'll Need for Day Trips to the Beach
Wander Farther And Longer With Your Devices Fully Charged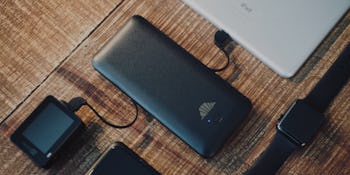 StackCommerce
The sun, the sand, the gentle crash on waves. All good. The dying of devices? Not so good. Here are four excellent portable chargers that will keep your devices going from home to the beach and back again, so you don't have to worry about getting lost or missing important texts and e-mails just because you strayed from the power outlet. Plus it's much easier to fit one of these in your bag than an electrical grid.
SCOUT Wireless 5,000mAh Portable Charger
Keeping your smartphones, tablets, e-readers and other devices changed is a constant struggle, and jugging the mess of wires and cables only adds to the frustration. But there is a way out. This powerful 5,000mAh portable charger reduces the clutter and hassle of carrying around a bunch of cables by featuring a built-in wall charger built-in cables, and a quick-charging USB port. All in one sleek and compact accessory.
The SCOUT Wireless 5,000mAh Portable Charger normally costs $80, but right now it's on sale for half-off. Get it now for $39.99.
KeySmart 10,000mAh Portable Charger
When you need to fully charge your devices it's important to get a portable charger with a lot of power. This charger from KeySmart has a huge 10,000mAh capacity, and at a sale price of only $33, it's a smart idea to keep one in your backpack or car for emergencies, whether you're stranded somewhere or if you just want to keep listening to music.
QiStone2 Wireless Portable Charger
Here's a charger that's great for Qi-enabled devices. The QiStone2 features 8,000mAh of power so you can charge your phone several times over, plus USB Type-C connectivity for faster wired charging. You can even recharge two devices at the same time.
The regular price for the QiStone2 Wireless Portable Charger is $79.99, but with a 25% discount, you can get it for $59.99.
SOScharger: The USB Pocket Charger With Unlimited Power
Portable chargers are a good way to keep your devices charged, but they still rely on access to a power outlet eventually. In a true emergency without easy access to power, the SOScharger can be a literal lifesaver. It's a portable charger with a charge-creating handle so you can turn to easily generate power. Plus it's so compact it will fit right in your pocket. Even if you're stuck on a desert island you should be able to use your phone, and this charger's got you covered.
It's normally $59, but now in the Inverse Shop, you can get the SOScharger for only $29.99. That's a 49% discount.