5 Courses You Need to Become a Master Designer
Stop Dreaming And Start Designing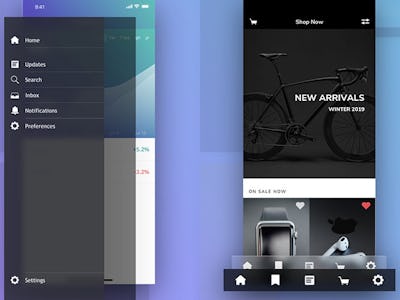 StackCommerce
People do tend to judge a book by its cover, and so if you're selling a book it better have a nice cover. That's why good design is important. Designers don't just sit in their studios all day scribbling down their daydreams, they're hired by pretty much any industry you can name. Websites, movies, apps, books, brochures, business signs and advertisements couldn't function without them, and designers are more in demand than ever.
Turn yourself into a professional designer with these five courses and course-bundles. Whether you want to work for a company as their on-staff designer, freelance design for many projects, or just design for yourself, these courses will give you the techniques to complete professional-grade design work and get into this exciting industry that's absolutely essential to modern business.
Sketch Packs App Design Elements Bundle
Sketch Packs is a way to design an app in minutes. It's 100% customizable and optimized for easy use, allowing you to design gorgeous, user-friendly apps for mobile and desktop. This design elements bundle hundreds of symbols, icons and customizable buttons designed for social media and e-commerce apps.
The Sketch Packs App Design Elements Bundle normally sells for $369.95 but you can get it for 94% off at only $19.
Graphic Design + Adobe CC Certification School
Adobe is the top name in graphic design software, and this three-item course bundle will introduce you to the Adobe tools every graphic designer will need in their career. Learn Adobe Illustrator, Photoshop, and InDesign and earn a Continuing Professional Development (CPD) certificate to demonstrate your expertise. With a certificate on your resume and your in-depth knowledge of these Adobe tools, you'll be able to kick-start your graphic design career.
Graphic Design + Adobe CC Certification School normally costs $1197, but now in the Inverse Shop, you can get it with a huge 96% discount for only $39.
The Complete Learn To Design Bundle
You don't have to spend four years at university to learn web design, everything you need is here in this massive eight-part, 450+ lesson course bundle. Wordpress, web animations, HTML & CSS and UI design are all covered. This bundle covers a wide range of topics that the best versatile web designers use on the job and will prepare you for web design whether you're interested in a career in the industry or simply designing for yourself.
The Complete Learn To Design Bundle sells for $1129.92, but you can get all eight courses for a hugely discounted sale price of $39 — that's 96% off.
Want to become a graphic design professional but don't know where to start? This is a course specifically created for total beginners. Learn at a reasonable pace how to design custom logos, business cards, web graphics and more. Use industry standard software like Photoshop and Illustrator to master the techniques necessary for good graphic design. Everyone's got to start somewhere, and this course makes beginning a graphic design career simple.
Graphic Design Bootcamp regularly costs $125, but the Inverse Shop has an 88% discount, dropping the price to only $15.
The Creator's Multimedia & Design Super Bundle
For those seeking a way to create beautiful animation and video production effects, this course provides an in-depth dive into the world of professional multimedia design. Explore Adobe Acrobat Pro, Dreamweaver, Adobe Premiere, After Effects, Encore and other software used in industries as varied as web design, publishing, and film. After completing these three courses you'll be able to generate 3D effects, create animations, and apply the tools towards a wide array of projects.
The Creator's Multimedia & Design Super Bundle costs $5284, but right now it's discounted by a full 99% and you can get all three courses for $39.