The Best Selling Bedding You Can Get on Amazon
You can have great bedding and you don't even have to leave your bed to get it.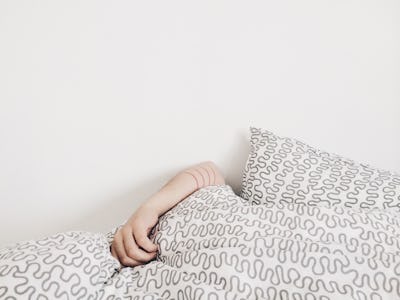 Unsplash / elizabeth lies
In the future, the name of the game is convenience. How can I get the best thing available to me in the shortest window of time? Amazon has made a mulit-billion dollar name for itself as an online mall for pretty much anything you could ever need and brought it to your door in 2 days or less—with free shipping no less. Your bedroom isn't left out of this equation.
On this list, you'll find the best selling bedding items of every type ranging from sheets to pillows to duvet inserts and covers and more. You work too hard to have to work harder just to have the comfy bed you deserve. That's where I come in. I've done the hard work for you and now all you have to do is place your order. Say no more to a bed that doesn't work with you, to blankets that work against you, and pillows that don't support your neck properly and start sleeping better than ever before.
The Machine Washable Comforter You Need
Why We Picked It: Not only is this incredible comforter on sale for a fraction of the price of its usual retail value, it's machine washable. If you've ever owned a comforter and spilled the unfortunate tea or coffee in bed, you know how much of a hassle it can be to get it to the dry cleaner. Just by nature of being machine washable, this comforter has you and your busy life in mind. The fill is hypoallergenic microfiber that will not take on odors or shed feathers. Available in a variety of colors so you can use it on its own or put in a duvet cover for added convenience.
The 2-Pack Feather Pillows That'll Provide You Unmatched Comfort
Why We Picked It: Everyone knows that a good pillow can run you a pretty penny, so when I discovered this 2-pack of pillows with feather fill—the absolute best in the bedding world—I was elated. Designed to never get flat and remain durable and supportive for years to come, this set of goose down feather pillows is an absolute steal and comes in soft, medium and firm options depending on your preference.
The Sheets That'll Get Softer With Every Wash
Why We Picked It: If you prioritize consuming organic products in other areas of your life, your bedding should be no different. These 310-thread count sheets will be durable, crisp and cool for years to come and the reinforced stitching and high quality weave will guarantee that. The more you wash them the softer they'll become for comfort that you'll never tire of. Available in all the usual bed sizes including California King and TwinXL.
The 5-Star Rated Duvet Cover With An Organic Certification
Why We Picked It: Rated 5-stars by every person to have purchased this duvet cover, you can't go wrong with this one. It'll protect your comforter from discoloration, odors, spills and more while also adding much-needed plush feel to your existing bedding. The heirloom percale weave will grow softer and more comfortable with every night's sleep and wash. The coconut button closure and interior duvet ties will keep your insert secure through even the roughest nights. Available in King, Queen and Twin sizes.
The Pillowcases That'll Prevent Bed Head
Why We Picked It: If you've spent any length of time in the influencer corner of the internet, you've probably heard about the benefits of satin pillowcases. They're easy to wash and durable while also being cooler than other fabric options and satin produces less friction so your hair and skin are never tugged on, thus allowing you to wake up with softer hair and skin. They also don't wick away moisture like other fabrics so your hair and skin will wake up feeling more moisturized than ever.
The Affordable Mattress Topper That'll Breathe New Life Into Your Old Mattress
Why We Picked It: If your existing mattress isn't cutting it for you, you don't need to shell out the big bucks to find relief. This affordable pillow top mattress topper will provide unmatched comfort with 2 additional inches of support and cooling function. The hypoallergenic construction will stay soft and hygenic without aggravating your allergies.