Super-Smart Items That Will Make Your Beach Trip That Much Better
The beach can be fun with a little problem solving.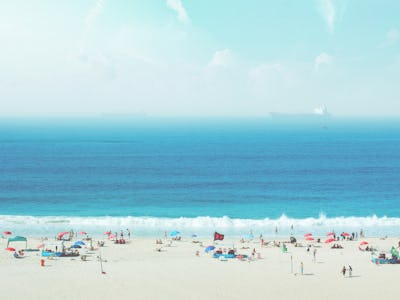 unsplash
How many times have you thought about going to the beach and ditched the idea because of all the hassle? Let's face it, the beach can be fun but when you consider all that it involves the juice may not be worth the squeeze. All your stuff gets wet, there's sand - everywhere, the list goes on. But it's 2019 and whatever problem you can have there's a product out there to fix it.
Marchway Floating Waterproof Dry Bag
I bet one of the reasons you chose not to hit the beach this time is that by the end of the day everything is wet. Well, it's a beach and there's water so that shouldn't come as a surprise. But I get it. Try the Marchway waterproof dry bag. The dry bag is great for any outdoor activity where you need to keep your stuff protected, the beach included. Keep your stuff dry and sand free while you're there and then use it to stash your wet clothes and towels for the ride home.
JBL Flip 4 Waterproof Portable Bluetooth Speaker
Going to the beach is basically like having an outdoor party and what fun would that be if there's no music. Get the party started and keep it going with the JBL waterproof portable Bluetooth speaker. Enjoy great sound quality, 12 hours of music on one charge, and easily connect to Siri or Google.
If you want a day at the beach but you don't want to be well done by the end of it you may want to consider a beach tent. In addition to reapplying sunscreen, the Gorich beach tent will provide ample protection from harmful UV rays. The Gorich beach tent is lightweight, portable and sets up easily.
Stash-it Diversion Water Bottle
So you're off to the beach and you're thinking about how to safeguard your stuff whilst frolicking in the waves. If you're not you should be. The Stash-it diversion water bottle could be the answer you were looking for. Store your cash, cards, and keys in what looks like a water bottle no one is the wiser.
If you're heading out for a day of fun in the sun with music for some entertainment your phone's battery may not outlive the fun. A waterproof battery can add some longevity to festivities. The FosPower PowerActive battery is waterproof, shockproof, lightweight and it's compatible with a wide variety of devices.
On your list of annoyances at the beach, getting sand everywhere will most likely come in at number one. No matter how hard you try to avoid it tracking sand back to your vehicle and into your home is inevitable. The sand free blanket by Live Infinitely can remedy that right quick. Made from 210T Ripstop nylon the sand free blanket is durable, and compact completely sand resistant. Now you can go home at the end of the day and leave the sand at the beach for others to enjoy.