Buy a Mini Museum (No, but Really)
There's so much to learn, you'll never get bored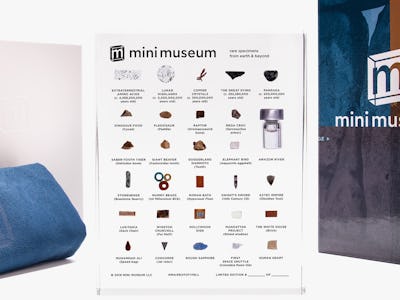 Mini Museum
Hans Fex spent his life collecting rare objects from unlikely places. Some even millions of years old. So what does someone do after they've devoted their life to finding fascinating objects from history? Well, in Fex's case, he's decided to share these objects with the world. In a really unique and creative way.
He founded Mini Museum where all of these specimen can live alongside one another. The mini museums are beautifully encased and organized in a plaque you can display on your desk, in your office, or even carry with you if choose.
The large version of the Mini Museum contains 29 specimen and measures 5" tall x 4" wide x 1" thick. You might be wondering what this museum actually comprises of. Well, here are some examples: Extraterrestrial Amino Acids (c. 4,568,200,000 years old), mummy beads (c. 1st millennium BCE), a knight's sword (14th century CE), and even a part of a human heart. Each of these mini museums are put together by hand, and every item is authentic and comes with a certificate of authenticity.
These mini museums come with a detailed printed guide so you can fully understand what you're looking at. You'll be able to learn new things all the while being inspired and engaged in history. This also makes the perfect gift for the person in your life who's obsessed with history and archeology, or that person who you can never quite think of what to buy for their birthday, but know they would appreciate something educational, thoughtful and just plain cool.
Mini Museum started as a Kickstarter and ended up raising $696,588 dollars on their campaign. They are now on their fourth edition, but if you're looking for something slightly smaller, you can also check out the smaller version of the third edition, which includes 12 specimen and is $129. Either way, you're sure to find something for you or your loved ones in these unique and fascinating objects.