Batman's Original Batcopter Still Flies With Some Sweet, Modern Upgrades
Captain Eugene Nock flew us inside the Batman's Batcopter. Here's what we saw.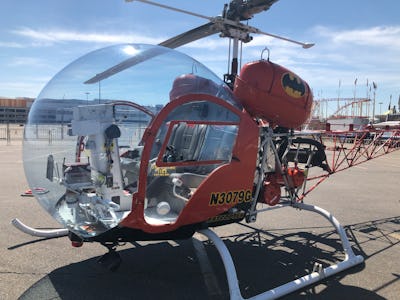 Eric Francisco
It's hard not to smile when you're flying in the Batcopter. On a recent Tuesday in the parking lot of MetLife Stadium, I sat shotgun beside Captain Eugene Nock — a pilot of 40 years with 15,000 hours of flying experience — as he spun circles hundreds of feet over the same parking lot where I'd grilled ribs during WrestleMania a few months earlier.
But besides the New York City skyline, my view is different than what Batman stars Adam West and Burt Ward saw from these seats. Today, the Batcopter, still flying after 50 years, has some serious modern upgrades.
Making a stop at the State Fair Meadowlands for Fourth of July weekend, Eugene Nock is flying Bat-fans in the actual, real Bell 47 that flew in several episodes (and the movie) of the classic Batman television series. The fair is just one of a handful of stops that the Batcopter makes every year, all out of Nock's passion to inspire a love for aviation in young people.
"The kids love it," Nock, born and raised in Sarosota, Florida, tells Inverse. "It inspires what's cool and fun. It brings the Americana out of everyone."
Spanning 51 feet nose to tail, nine feet from the ground, and sporting "100% metal" motor blades with stainless steel 4130 chrome moly, the Batcopter looks like a tricked out life-sized toy. It can reach a top speed of 105 miles velocity never exceed, or VNE. With vivid orange and black paint, it doesn't look like any other hunk of metal over five decades old.
But the chopper has undergone internal and external work since the Caped Crusader hung from its ladder to pepper spray a shark. Besides a paint job with modern materials, the biggest upgrade is an L3 Lynx transponder, a little metal box that acts as the helicopter's own utility belt.
Without getting technical, the L3 Transponder lets pilots like Captain Nock communicate with air towers (during our flight, the nearest was Teeterboro Airport) without actually talking. It also informs Nock of other planes in his vicinity; when we fly, the L3's automated "female voice" tells Nock of a plane on our two o'clock.
"The paint these days is so much better than in the '60s," he says. "The ADS-B In and Out has full diversity, which means when I'm flying the product tells me other airplanes in the area. It sends out a code to Teeterboro and they can watch me live where we're at."
The copter is also enabled with Flight Aware; its N-Number, a designation number required by Federal Aviation Administration, is N3079G, which can be used to track the Batcopter on Flight Aware or in FAA databases. Nock is keen on letting people know the Batcopter's N-Number; its proof it's the same copter that flew into his childhood imagination. "Because of my age, I'm kind of stuck in the '60s," Nock jokes.
Nock is a lifelong Batman fan, though its still the live-action TV show that fills his heart. He's flown his heroes, Adam West, Burt Ward, and Julie Newmar, whose signatures adorn the interior of the cockpit. There's also sketches from Batman artists like David Finch, Tom Grummett, and Ty Templeton. One signature belongs to Eugene J. Richardson, a pilot of the Tuskeegee Airmen from World War II.
While the Batcopter inspired his career in aviation, acquiring it was an accident. In the mid-'90s, Nock was starting his business out in the Wildwoods area of New Jersey when he needed one more machine. "I searched for what we call a wide body. There are not many around," Nock says.
He used his contacts in the remarkably small global community of helicopter pilots to eventually find two Bell 47s in varying condition. One of them, N-Number N3079G, was in marginally better condition with better hours logged on the main rotor blades.
"They have a life limit," he says, mentioning you can actually calculate the worth of them based on cost and time spent in the air. After a long exchange of "standard helicopter talk," the seller kept bringing up the "significant" Hollywood history of N3079G but failed to ever mention Batman. Nock thought nothing of it, until the seller overnighted the logbook.
"I read the logbook and it immediately says, 'Sixties, Batman, ABC.'"
Perusing the logbooks with flights recorded, Nock learned the copter was also used as a behind the scenes asset. It was an airborne gyro mount to shoot TV shows like M.A.S.H. and Batman's cousin series, The Green Hornet.
With the Batcopter in his hangar, Nock embarked on a quest to restore the Batcopter to its glory. He admits that the paint job isn't accurate to the TV show, as his team lacked reference photos to get every line and streak accurate. "It's as close as it can be," he says. "I've done 80 different events." Safe to say fans are fine with the mild inaccuracies.
Nock has quite the collection of superhero vehicles. He also owns a usable replica of the Batmobile, which unlike the copter is not the same one driven in the series but was built by "hot-rodders" using the measurements of the original. And unlike Batmobiles that show up at conventions, you can drive Nock's Batmobile. "Once you get in, you know it's the real deal."
He also owns the Honda Cyclone motorcycle of the Japanese superhero, Kamen Rider. "It's in the Matsui Greenland, an amusement park I work with," he tells me. "I was in charge of the Kamen Rider motorcycle, costume, our stunt guy drove it. The Japanese are big on motorcycles."
At 59 years old, Nock is just trying to get people excited about flying as Batman did for him so many year sago.
"The Batcopter magnifies awareness for young people," he says. "We want to inspire people to become pilots. That's our push for 20 years. Most pilots make a nice paycheck. I'm just trying to inspire young people that working hard, everything is in front of you."