'Apex Legends' Season 2 Map Changes Explained in This Chill Fan-Made Video
The best way to get acquainted with the new King's Canyon.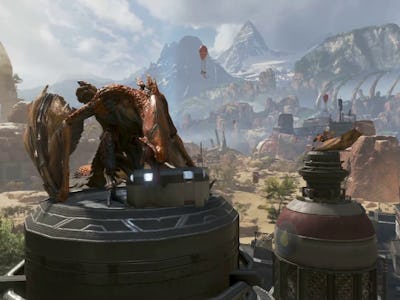 Respawn Entertainment
With Apex Legends Season 2's release on Tuesday came a series of changes to King's Canyon following a devastating event depicted in the Season 2 launch trailer. Respawn hasn't explicitly detailed the many changes anywhere, but one fan worked through the night on Tuesday to produce a chill-AF video showing comparisons between a number of locations.
Redditor u/mnkymnk posted the video to the Apex Legends subreddit Wednesday morning with a track from oatmello serving as background music. The 2-minute video opens with the character ziplining near the active disruptor tower in Season 1 before it transitions into Season 2 mid-zip, and we see the tower knocked down and on fire.
Every sequence has its own unique transition, like when they dash through smoke or run into a building while in Season 1 to then emerge on the other side in Season 2. Perhaps the coolest one happens at the very end when u/mnkymnk use a Wraith Rift to teleport from Season 1 into Season 2 right next to the disruptor tower. The best way to notice the transitions in most cases is to look for the Leviathan legs or to take note of areas where grass appears where it used to be sand, or vice versa.
The video explores several different areas, but most of the shots focus on the disruptor or areas where the two Leviathans linger towards the center of the map, such as the former Cascades, which has been replaced by Containment. Overall, u/mnkymnk utilizes a diverse collection of shots at varying elevation levels to deliver a solid look at how Season 2 differs from Season 1.
The two Leviathans, flocks of Flyers, and overgrown plant life around the map aren't the only additions to the map in Season 2. There's also the six-story Cage just southeast of the map's center point — another location featured in the video.
Over on YouTube, u/mnkymnk goes by Monkeysniper, and they promise to post a longer video to their YouTube channel surveying the changes sometime soon. Anyone who loved this video should be on the lookout for that even longer version. But for now, this is a great way to get situated with the many Season 2 map changes.
Apex Legends Season 2 is now available.