There's a 3-Hour Version of 'Hereditary' — But It's Never Getting Released
"I don't think anybody wants to see that," director Ari Aster tells Inverse.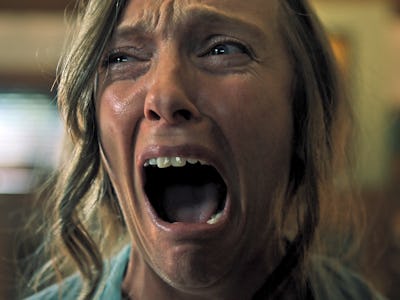 A24
Ari Aster doesn't make short movies. His terrifying debut, Hereditary, clocked in at just over two hours, and Midsommar pushes that up to roughly two-and-a-half hours. But in both cases, there's an even longer version hidden away in a production closet somewhere that we'll probably never see, though Aster tells Inverse he is considering a slightly longer director's cut for his latest film.
"The full cut of Midsommar, like when we first assembled, everything was almost four hours long," Aster says. "And so we cut a lot of the movie out. For Hereditary, we had to cut a lot out to that was a three-hour film."
Ari Aster is a member of the Inverse Future 50. Read his full interview here, and an editorial by Aster about the future of movies in the 2020s here.
Considering the deep worlds that Aster creates for each movie, it's tempting to imagine what a three-hour Hereditary or a four-hour Midsommar might look like. But don't expect either. "I don't think anybody wants to see that," he says.
However, he is considering a Midsommar director's cut that could add about 20 more minutes of footage, pushing the runtime to just under three hours. "It wouldn't be the full picture," he adds.
In general, Aster says he's a big fan of sprawling movies that let you fully experience the universe they exist in.
"I've always loved longer films," he says. "I've always loved like films that kind of like luxuriate in the worlds that they've built. I'm always excited by the announcement that a filmmaker I like is releasing a long film. It means I get to like live in whatever he's done or she's done for like that much more time"
Midsommar tells the story of a disturbing pagan summer festival set in the Swedish countryside during the midnight sun (a stretch of each summer where the sun barely sets). The story is told through the eyes of a group of American grad students who follow their Swedish friend as he returns to the small community where he grew up, and focuses on the experience of Dani (Florence Pugh), a young woman dealing with the death of her parents and a terrible boyfriend (Jack Reynor).
While not quite as terrifying as Hereditary, Midsommar sustains an eerie mood throughout while also sneaking in a few legitimate scares and plenty of beautiful imagery. Aster is careful to clarify that while Midsommar is a scary movie, he wouldn't classify it as standard horror.
"I've been describing this now for a long time as a macabre fairy tale," he says. "This is a fairy tale, and the only reason that I make that distinction is because I feel that people who come at this film with certain expectations are maybe robbing themselves of the opportunity to give themselves over to the experience."
Midsommar is in theaters now.