Items You Can One-Day-Order on Amazon That Will Absolutely Make Your 4th of July Party
Throwing a last minute party has never been easier.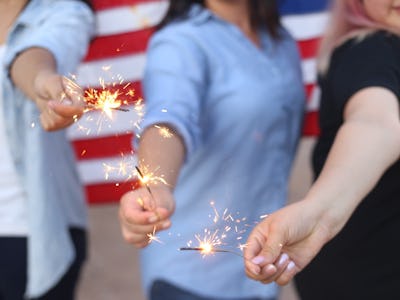 Unsplash / Alondra Olivas
So maybe your friend's kid got sick and they can no longer host their usual party. Maybe you've decided to distance yourself from your usual family party. Or maybe you finally got a house with the space for entertaining. Regardless of your reason for deciding to have a Fourth of July party, if you're not prepared, don't fret. Amazon Prime has always been a miraculous solution to online ordering, but with the introduction of one-day delivery, you can place an order at 9pm one night and have it by 9am the next day.
Seems wholly unbelievable but it's not. On this list, you'll find the must-have party items to throw a kickass Fourth of July party that shows you know what you're doing. Even if your party is not last minute, chances are there is at least one thing you forgot. Forget running to the store last minute, all you need is an internet connection to host the party of your dreams.
Plates, Napkins, Toothpicks and Cups
Why We Picked It: You don't have to go over the top to throw a thoughtful theme party. This service for 25 disposable dinnerware set will allow your guests to feel festive, while making clean up a breeze for you. If you've ever been to a party store, you know how much they try to charge for just 5 paper plates, so at $19, this lot is an unbelievable steal.
Table Cloth
Why We Picked It: Table cloths have the impression of being overly formal, but this jute table runner will bring a classy vibe to your theme party without over doing it. Perfect for covering card tables, picnic tables or just adding a little more pizazz—and protection—to your dining room table, this $15 table runner is essential for curating the vibe of your party.
Balloons
Why We Picked It: Balloons on their own are a fun addition to any party, but these balloons are especially exciting because they have the added fun feature of confetti stuffing. The simple addition of these balloons will bring affordable festivity to your party that your friends and family are sure to find delightful.
Glow Sticks
Why We Picked It: You simply cannot have a summer party—especially not Fourth of July—without incorporating much needed glow sticks. This affordable glow stick lot is perfect for all ages and is sure to include all the neccessary connectors so that you can have fun making braclets, necklaces, balls, glasses and whatever your heart desires.
Photo Props
Why We Picked It: Your friends and family will never forget your party if they have photos of it. Encourage your friends and family to capture their memories with the inclusion of photo props in your bag of party tricks. Great for helping everyone feel a little bit more festive—not everyone has time to go to Old Navy and buy this year's shirt—this lot of props is perfect for your Fourth of July Party.