These Are the Best Cold Brew Coffee Makers on Amazon
If you can make it at home, why not?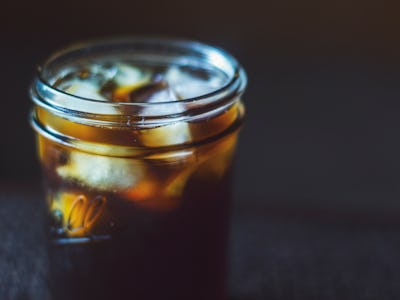 Unsplash / Matt Hoffman
With every food and drink trend that comes and goes, a whole swath of new products hits the market. Cold brew has been big on the scene for a few years now and if you've become a cold brew faithful like many coffee converts, I encourage you to start home brewing. Why? Because you can.
Walking to your kitchen or fridge is so much easier—and more reliable—than trying to drag yourself to the coffee shop. In the case of cold brew, you can brew well ahead of time and have a delicious batch to sip from every morning for a week without any extra time or stress added to your already busy schedule. Say no more to being 20 minutes late to work because the line at the coffee shop was 10 people longer than usual.
On this list, you'll find the 3 fan favorite cold brew coffee makers now available on Amazon—what's more is all 3 are extremely affordable.
The Space Saving Option
Why We Picked It: This sleek carafe won't monopolize all your fridge space but will still allow you to make enough coffee for your week or even for a set of guests. The borosilicate glass container is heat and cold resistant and also BPA free, so you never have to worry about plastic leaching into your favorite drink. The reusable filter and pitcher are dishwasher safe for an added layer of convenience.
The Easy Dispensing Option
Why We Picked It: This cold brew dispenser and maker is my favorite thing to buy for my friends' weddings. From legacy brand, Kitchenaid you know it's going to be good. It features a reusable stainless steel steeper that makes measuring up to 14 servings easier than ever while the built in dispenser and carrying handle make this cold brew maker your new favorite party trick.
The Aesthetic Option
Why We Picked It: Nothing screams home made quite like a mason jar. This 2 liter cold brew maker is also great for making bulk cold brew for yourself or for a big party. All parts of brewing are completed mess-free in less than 2 minutes within this super-easy-to use jar and incorporated steeper. The tight fitting lid ensures that your brew stays as fresh as the day you made it.