Give Your Kitchen a Huge Upgrade With These 7 Gadgets Under $150
Upgrade Your Kitchen And Become The Home Chef You Deserve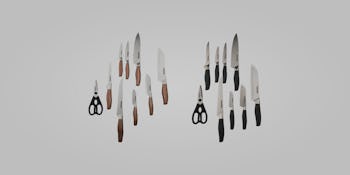 StackCommerce
It's been up for debate, but the experts all agree: The Kitchen is the most important room in any home. Whenever you want to improve your life you start in the kitchen, but you can only get so far with your current set-up. Maybe you've put off fixing your kitchen because you're afraid it will cost more than a new car, but fear not: a better lifestyle is cheaper than you think. For pennies on the dollar, you can give your kitchen a much-needed upgrade, and take your meals to the next level.
9-Piece Cutlery Set by Epicurious
It's time to stop torturing yourself cutting everything with that single old dull knife of yours and upgrade to the stuff pros use. This extensive 9-piece cutlery set by Epicurious is made from fine materials and crafted for high-quality. You'll get reliable performance from each of these sharp, durable blades whether you're paring, boning, chopping or slicing. You can get this in-expendable cutlery set for 47% off the retail price at $52.99.
Better Sponge: 6-Piece Variety Pack
While you're upgrading your kitchen space you ought to throw out those dirty, grungy old sponges of yours. They're long past due for a refresher. Since you need new sponges anyway, why not get some from the future? These innovative new sponges out-perform your standard sponge in every way. They've got small silicone fingers for close cleaning and don't wear down or collect odors. Right now they're available in a 6-piece variety pack for half-off, at just $19.99.
Power Air Fryer 10-in-1 Pro Elite Oven Black
You've probably heard of air frying — it's a convenient new way to get the crunch of fried food without the messy grease or fattening calories. With this 10-in-1 air fryer, you can get crispy french fries right at home. The different modes also allow you to cook rotisserie chicken, steak, and more to perfection. Grab one at 49% off the retail price for $84.99.
Gotham Steel Ti-Cerama 12-Piece Kitchen & Cookware Set
A cook is only as good as their cookware. This huge 12-piece kitchen set has everything the home cook needs but made with the tough quality a professional chef demands. Gotham Steel pans use Ti-Cerama coating which combines super strong titanium fused with slick ceramic, for the perfect balance of nonstick cooking and durability. You can get all of this for just $95.
BoilingBeeper Kitchen Timer for Boiling Water
When you make dinner you're never cooking just one thing, it's usually a delicate balancing act. So use this handy little device to watch your pot for you. While you're busy with the side-dishes (or just watching TV), this floating kitchen timer monitors your pot's temperature and beeps once it starts to boil at 212ºF. You can save yourself the tedium of watching your food for only $19.99.
D-Frost Wonder Quick Defrosting Tray
One of the worst everyday heart-breaks is when you go to make dinner and realize you haven't defrosted the meat. However, all is not lost. This quick defrosting tray defrosts food the natural way, with a thermal conductive surface that speeds up the thawing process. It doesn't even require electricity or batteries. Plus, it's non-stick and easy to clean. You can start defrosting food the proper way for $12.99.
You can either go to that fancy juicery across town for your fresh juice (at $12 a pop), or you can make it right in your own kitchen. This robust juicer boasts a powerful 1500-watt motor and an extra large feed tube big enough for an entire apple or orange. It's engineered with pulp extraction technology so you'll get a cleaner juice without all the pulp. And at just $145 you'll quickly be saving money by making your fresh juices at home.
Prices are subject to change.