Here's the 1 MCU Movie You Need to Watch Before 'Spider-Man: Far From Home'
Look, just trust us and watch it. Ok?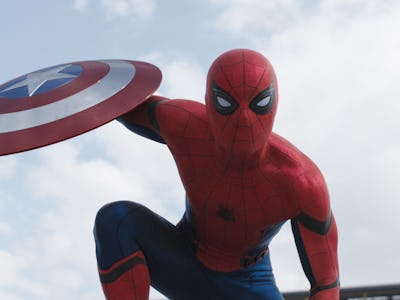 Marvel
Spider-Man: Far From Home is almost here, but before you head to the theater to see Peter Parker's latest adventure, there's one Marvel movie you really need to rewatch. I won't say why, but if you haven't seen Captain America: Civil War in a while you owe it to yourself to rewatch this Russo Brothers classic before Far From Home thwips into theaters next week.
Why? Well, for one thing, Civil War was the first movie in the Marvel Cinematic Universe to feature Spider-Man, breaking down the legal barriers that had separated Spidey from the rest of the Avengers. If you're looking to psych yourself up for Far From Home, you really can't do better than Peter Parker's airport battle with Captain America, the Winter Soldier, Falcon, and the rest of the gang.
Even if you don't have time for the entire movie, you might as well rewatch that scene. Here, we'll make it easy for you:
But, if we're being totally honest, that's not the real reason you need to rewatch Captain America: Civil War before Spider-Man: Far From Home. Without going into spoiler territory, it has a bit more to do with Iron Man's role in the MCU. Remember, Civil War was all about Tony Stark grappling with his responsibility for the collateral damage that happened in Avengers: Age of Ultron (and also, sort of, in 2012's Avengers.) Iron Man might be gone by Far From Home, but his legacy lives on in a few very important ways …
Agh. Sorry. We're trying really hard not to spoil this movie for you. Look, just trust us when we say that there's an awesome moment in Spider-Man: Far From Home that connects directly to a scene from Captain America: Civil War. When you see it, you'll know what I'm talking about. And once that happens, feel free to email me and I'll confirm if you're right.
Spider-Man: Far From Home swings into theaters on July 2.
Also read: Why You Need to Rewatch These Spider-Man Movies Before Far From Home