Raspberry Pi 4: 9 Ways People Will Use This Super-Powerful Tiny PC
The hobbyist's dream machine is back.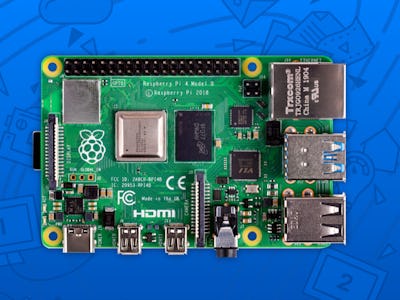 Raspberry Pi
The Raspberry Pi is back, and it's attracting a whole slew of new hobbyist ideas. The credit card-sized computer, which first launched in 2012, received a major upgrade earlier this week when the fourth-generation model hit stores. The new version boasts faster speeds and better connectivity, but with an ultra-low $35 price tag.
Earlier versions have been a hit among tinkerers. Their small size means they can fit in all sorts of homemade designs, from anything to magic mirrors to even as small as a plant watering system. Their popularity also means there's a thriving community of open source developers, sharing their code for how to make a robot bartender or a miniaturized braille laptop.
The new version has an impressive array of specs that could support a whole range of ideas:
Broadcom BCM2711 quad core Cortex-A72 system-on-a-chip at 1.5GHz.
1GB, 2GB or 4GB of RAM
Bluetooth 5.0, 802.11ac Wifi and Gigabit Ethernet
Two USB3 ports, Two USB2 ports, and two micro-HDMI ports that support two 4K displays.
A USB-C connector for power.
Here's what people want to do with the new version.
9. Even Better Video Game Emulation
Earlier models have been a hit with video game emulation fans, using setups like RetroPie. These programs mimic older machines like the SNES, running older titles the way they originally played.
The speed boosts in the new model have led to speculation about supporting even newer consoles. A Reddit user called "phire," one of the developers of Nintendo GameCube and Wii emulator "Dolphin," confirmed that they have ordered one to see how well it performs.
The 1.5ghz Cortex A72 is a massive improvement over the A53 and brings it into the range where lightweight Wii games might reach "playable" speeds if you tweak certain settings. And the GPU has gotten a massive upgrade, though it's a complete unknown at this point.
How well it performs in reality remains to be seen.
8. A Face-Recognizing Home Companion
The extra performance could enable new applications in artificial intelligence. In his article for Tom's Hardware, writer Avram Piltch tested Google's TensorFlow machine learning system and OpenCV computer vision system. He found that the Pi 4 could detect objects around 70 percent faster than the Pi 3B+, but at a still relatively slow speed of 1.7 frames per second. However, Piltch noted that the addition of USB 3 means developers can add in extras like Google Coral's TPU USB accelerator to boost these numbers, something that was not possible with the Pi 3B+.
Imagine building a home companion robot that recognizes every member of your household by face or one that helps a farmer sort cucumbers by type. Some of these workloads are possible on earlier Raspberry Pi computers, but the Pi 4 B should make them fast and accurate enough to use on a regular basis. We can't wait to see what developers and what makers do with Pi 4 and A.I.
Instead of unlocking a phone like on the iPhone X and later, face scanning could enable an Amazon Alexa of the future.
The Ultimate Media Server
One of the biggest boosts in the new models is the separation of the Ethernet from the USB bus. That, paired with faster Ethernet speeds and USB 3 support, means it should serve files faster than ever.
"Gigabit Ethernet, USB 3.0 - It looks like raspberry will be finally good choice for NAS [network attached storage]," wrote a Reddit user called "infiniteoffset."
Stick one in an airing cupboard and run your home movies for everyone to enjoy.
Smarter Robots
Face recognition is cool, but the beefier processor in the new Pi 4 should enable motorized robots to crunch numbers faster.
"Once again I'm primarily looking at this from the perspective of an embedded systems/robotics applications - not just 'a small desktop'," wrote a Reddit user called "sayfog." "The USB3 is the single biggest upgrade to what we're interested in, the next problem is for us applications which need the USB3 need more processing power (RTABMAP) to back them up than the Pi can provide it."
A Super-Small Home PC
The Raspberry Pi's developers tout its ability to output 4K to two screens at once. Hooked up to a keyboard and mouse, with a small SD card attached, the Pi 4 could represent a relatively cheap way of getting basic tasks done.
"I have ordered the 4GB with that purpose," wrote a Reddit user called "CloudNetworkingIO."
Internet video fans should maybe think twice, as Tom's Hardware found YouTube was very slow playing back high-definition video.
A New Smart TV
Loading up a Raspberry Pi with a TV-designed app like Kodi could transform a TV into something like a Roku or Amazon Fire Stick. This could come with the benefit of easier tweaking, enabling users to add on all sorts of extras.
"Might be a good way to upgrade my tv at the cottage to a smart tv," wrote a Reddit user called "MtnyCptn."
The Ultimate Ad Blocker
The older versions of the Raspberry Pi could run Pi-Hole, a program that takes ads and ferries them to a dead end for all the users on a network. The addition of even faster Ethernet has got users excited about this possibility.
"I'm tempted to grab a few and try running Pi-Hole for my whole organization (~1200 users) and see how that goes," wrote a HackerNews user called "PakG1."
Self-Driving Boat
Tired of driving your boat yourself? Why not get a machine to do it!
"Every year we upgrade our autonomous sailboat controller to the latest Raspberry Pi," wrote a HackerNews user called "tsaoyu." "This year we face a situation to choose from Jetson Nano and RPi 4. Even the decision is hard to made, now is an exciting moment for robot makers."
While autonomous ships aren't expected to set sail until 2025, a miniature version could come ashore surprisingly soon.
Running Its Own Launch Website
What else could the Pi 4 do? It could run a high-profile product launch!
The Pi 4 was used to host the website of its own announcement, hosts Mythic Beasts revealed in a blog entry. The team used 18 of the little devices with Gigabit Ethernet powering the launch, 14 for PHP processing on the main website, two for serving static files, and two for memory caches. Not everything ran off the Pi 4 setup, in part as the "netboot" feature critical to fully stable hosting is coming in a later firmware update.
With that in mind, the Pi 4's smooth launch was a miracle. The team had to use a pre-release operating system on brand new hardware, testing it under severe load for a major moment in the brand's history.
We very strongly advise our customers not to use this for a mission critical super high profile website under-going the most significant production launch in their history. That really isn't a very good idea.
With the excitement building around Pi 4 based on the launch materials, it goes to show the Pi 4 is up to some surprising challenges.