Intel and Rolls-Royce Reveal Plans for Autonomous Ships as Early as 2025
The partnership could have far-reaching consequences.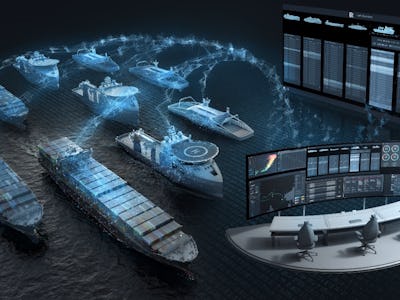 Intel and Rolls-Royce
Intel and Rolls-Royce are teaming up to bring autonomous technology to giant ships. The pair announced on Monday that they will work together to send robots out to the water as early as 2025, as part of a gradual phase-in of relevant technologies to transform the industry.
"There is no doubt that digital technologies are going to play an increasing role in shipping in the future," Kevin Daffey, director of Engineering & Technology and Ship Intelligence for Rolls-Royce, tells Inverse. "The smart use of data will be a key enabler in the adoption of remote and autonomous technologies. At first, such technologies will be deployed on vessels operating close to shore, such as tugs, ferries and coastal cargo ships. These operate within the confines of a flag state, so the legislative issues can be managed on a country level."
The partnership will initially see Rolls-Royce build its Ship Intelligence platforms with Intel Xeon processors, for handling data in on-land centers and off-land. Servers on the ship will act as a black box, utilizing Intel 3D NAND solid-state drives for storage. Rolls-Royce is also evaluating Intel Optane for future storage. A team based in Finland and Norway has been working on using Intel's technologies for automating Rolls-Royce vessels in 2025.
"Ocean-going vessels will take longer because the international legislation needs to be revised, however, we still believe that an ocean-going autonomous ship is going to happen around ten years from now, towards the end of the next decade," Daffey says. "Not every ship will go fully autonomous, but it's highly likely that ships will make use of intelligent systems, even if they retain crews."
Autonomous ships have a different set of challenges to autonomous cars. Where projects like Waymo and Uber use lidar to sense how far away objects are over a few meters, ships need lidar capable of detecting objects from several kilometers away. Where Tesla's system plans to use eight cameras to guide itself around, the cameras on ships need much higher resolution to spot those objects several kilometers away. The ships will also need thermal sensors, radar and other technologies. It's all expected to produce around one terabyte per day for each ship.
"Delivering these systems is all about processing, moving and storing huge volumes of data, and that is where Intel comes in," Lisa Spelman, vice president and general manager of Intel Xeon Processors and Data Center Marketing, said in a statement. "Rolls-Royce is a key driver of innovation in the shipping industry and together we are creating the foundation for safe shipping operations around the world."
The move has big consequences for shipping, which handles around 90 percent of global trade. Around 25,000 of the 100,000 vessels in the world use Rolls-Royce technology, meaning the partnership could have widespread consequences.
"We're delighted to sign this agreement with Intel, and look forward to working together on developing exciting new technologies and products, which will play a big part in enabling the safe operation of autonomous ships," Daffey said in a statement. "This collaboration can help us to develop technology that supports ship owners in the automation of their navigation and operations, reducing the opportunity for human error and allowing crews to focus on more valuable tasks."
Intel has a large amount of experience in the autonomy field. The company bought former Tesla partner MobilEye back in March 2017 for $15.3 billion in a landmark deal. Former CEO Brian Krzanich described data, in this newly-forming autonomous vehicle world, as "the new oil."
"Simply said, this project would not be possible without leading-edge technology now brought to the table by Intel," Daffey said. "Together, we can blend the best of the best, to change the world of shipping."