SpaceX: Stunning Photos Show the First-Ever Night Launch of Falcon Heavy
Elon Musk called it the "most difficult ever."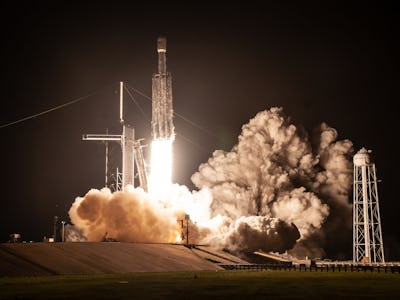 SpaceX/Flickr
For the first time in its history, Falcon Heavy lit up the night sky this week.
The world's most powerful rocket undertook its third-ever mission on June 25, launching the Department of Defense's Space Test Program-2 with 24 satellites into space. The launch took place at 2:30 a.m. Eastern at Florida's Kennedy Space Center from Launch Complex 39A.
The grueling, six-hour mission was described by SpaceX CEO Elon Musk as its "most difficult ever" prior to launch. It was the first time the Falcon Heavy would reuse two side boosters from a previous mission and the first Heavy mission for the Department of Defense. The firm aimed to land the center core 1,245 kilometers (774 miles) out in the Atlantic Ocean.
The first night-launch of the world's most powerful operational rocket naturally made for some spectacular images, which were recently released via the company's Flickr account. They show the Falcon Heavy piercing the pitch black sky, and whizzing off into the deepest recesses of the stratosphere to deliver the satellites into orbit. The photography from SpaceX's launches leads to some of the most impressive visual spectacles in current space media, and the towering Heavy delivered.
This was the first night launch for the Heavy. The first test launch, which took place in February 2018, sent Musk's red Tesla Roadster into space. It had a dummy in the driver's seat wearing a SpaceX suit, an in-car system playing David Bowie, and a reference to Hitchhiker's Guide to the Galaxy on the dashboard. This launch, which took place at 3:45 p.m. Eastern time on February 6, was the debut for the rocket.
The second launch was the Arabsat-6A. This took place on April 11 at 6:35 p.m. Eastern time and sent up two satellites.
This week's mission was expected to drop down the two side boosters on land, while the center core would attempt to touch down on the Of Course I Still Love You drone-ship in the Atlantic Ocean. While the two side boosters made it back okay, the central core was not so lucky.
Musk noted ahead of the launch that the odds of the central core surviving the landing were about 50 percent, as it would come in to land four times faster than a rifle bullet.
"High entry force & heat breached engine bay & center engine TVC failed," Musk later explained.
While the loss of the center core is a disappointment for the firm, the success of the rest of the mission helps prove the viability of reusing rocket cores, and demonstrates SpaceX's ability to complete big missions for major clients.
"This mission was more complex than anything I'm aware of in history of rockets," Musk declared on Twitter.