Upgrade Your BBQ With One of These Bad Boys for a July 4th Cook-Out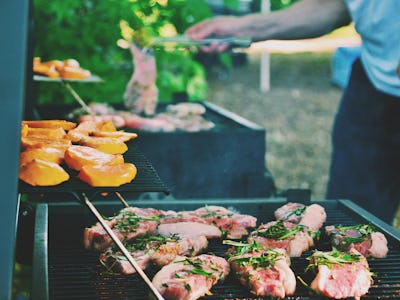 Unsplash / Jo Jo
Nothing says summer like a barbecue. There's just something so enjoyable about spending a few lazy hours with your friends and family around a grill. But what if you could do more than just cook the standard fare of hotdogs and burgers? If you're dying to upstage that one uncle who always has the insane cookouts, then these unique grills and outdoor ovens are the perfect way to score the ultimate cool points.
While burgers and hotdogs might get all the shine for a summer cookout, they're not the only option. In fact, chicken is a strong contender, and that makes this Rotisserie Barrel a smart option. Who doesn't love the taste of a savory, freshly roasted chicken? The Rotisserie Barrel (or any other meat of your choice) over charcoal thanks to the motorized spit. The configuration ensures a consistent heat due to the reflective sides of the barrel while the 360-degree coverage protects the charcoal from wind and the elements.
Can pizza be a cookout meal? It can if you make it from scratch. Skip the store-bought options from the frozen food aisle and let the delivery guy take the night off. If you prefer a slice from a legit pizza shop, then you know that in addition to the quality of the ingredients, that amazing flavor comes from the pizza oven as well. This Portuguese brick pizza oven expands on a classic design by adding new options like a cast iron door with a window. The window allows you to check on the progress of your pie without constantly opening and closing the door—which can impact temperatures and cook times. And the oven floor features fire bricks that offer a more even heating surface.
Just like at your favorite pizzeria, a real pizza oven can do more than cook up your favorite pies. And more importantly, if you would prefer to have your oven a tad more low profile for your general grill space, you can't go wrong with the Pizzaiolo Italian Pizza Oven. The 32 by 24-inch size provides a larger surface area so that you can cook larger pizzas or sizeable dishes for bigger parties. Because of the stainless steel construction, it heats up faster than a traditional brick oven. And the lava oven floor guarantees that you achieve a consistent temperature.
Maybe you prefer an oven that's a bit more mobile. The "Hi Cook" wood-fired oven is the perfect solution thanks to the trolley that comes with it. But more importantly, the oven features three levels—allowing you to cook more than pizza and simultaneously too. The built-in temperature gauge provides an easy to read display so that you're no longer guessing at whether or not your oven is ready for cooking. The stainless steel double walls ensure that heat is retained while the timer alarm allows you to enjoy that cookout versus spending all your time in front of the oven.