Solar Powered Cars Are Delightfully Impractical: But They Won't Be for Long
Ready to drive a giant solar roof to work?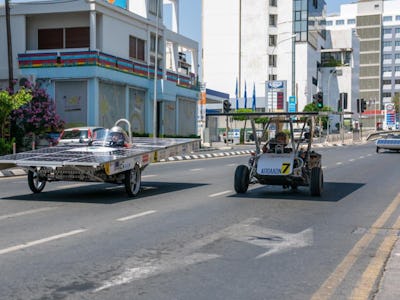 CYIS
The solar powered cars on display during the recent Cyprus Institute Solar Car Challenge, a three-hour race in which contestants tried to make it around a one-mile circular street track in Cyprus's capital city of Nicosia, weren't especially practical. But then again, they were also homemade, built using easily accessible materials for only a few thousand dollars.
"I am the only girl that will drive here in the race and I am very proud," Venetia Chrysostomide, a 16-year-old student from the nearby village of Dali, told the AFP. "With solar cars we take energy from the sun, so we can use this to reduce fuel consumption and air pollution."
Her €5,000 ($5,600) car was made of two mountain bikes, four solar panels, and a metal frame connected to batteries. But while most of the cars were relatively low-tech, owing to their homemade origins, they show how a fully renewable-powered vehicle could one day conquer the streets.
Whether they will look like Sunday's cars — which basically looked like massive solar panel arrays with tiny wheels beneath them — is another question. But that might not be the point.
While challenges to build solar powered cars aren't uncommon, the vehicles that compete in them are often designed by large teams affiliated with prestigious engineering programs. In sharp contrast, the Cyprus challenge was meant to show that solar powered cars could be built relatively inexpensively. Particularly on small, sunny islands where access to other forms of fuel might be limited, solar powered cars might be more practical in the longer term.
The Cyprus Institute Solar Car Challenge, hosted by the Cyprus Institute Research Center, involved a series of vehicles that were all inexpensive to build, most of them costing in the range of four figures. Some of the cars that competed are capable of speeds of up to 50 miles per hour.
How Mainstream Are Solar Cars, Really?
Solar powered cars remain uncommon (indeed, a major goal of initiatives like the Cyprus challenge is to try and help the concept enter the mainstream.)
One of the most well-known companies in the space is the Germany-based Sono Motors which is currently developing the Sion, a five-seater car with 158 miles of range. The Sion's body of solar panels provides 21 miles of range per day, which at first glance doesn't seem like very much. But Sono frequently notes that the figure is sufficient for the 10 miles per day traveled by the average German commuter. And on tiny, sunny islands like Cyprus, 21 miles a day might be enough to do it.
On the other hand, some notable people who have looked into the concept have their doubts.
Perhaps due to the relatively low output, Tesla CEO Elon Musk has been relatively dismissive of the utility. In July 2017, Musk said that adding solar panels would be "not that helpful." Not only is the surface area on a car relatively small, but cars are also usually kept indoors. There's not much sunlight to extract energy from if you park your car in your garage. Musk even said that the car was "the least efficient place" you could put a solar panel, which, from an executive with a significant solar manufacturing business, is criticism worth considering.
Then again, just because solar panels don't yet make sense on Teslas doesn't mean they will be impractical everywhere. One thing the Cyprus Challenge revealed was that some enthusiasts are already to make the switch.
"I would love to be allowed to go to work with my car," Tassos Falas, a teacher that built a car that can reach 50 mph, told the AFP. "I would park it in the sun in the parking lot of the high school, it will be fully charged by the end of the day and I would go back home, go and do some shopping without spending any money on fuel."