5 Sleep Solutions That Don't Involve Medication
When sleeping doesn't come easy, try these remedies.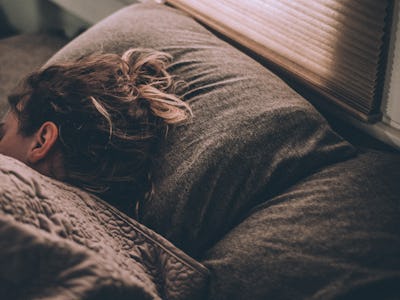 Unsplash / Gregory Pappas
If you're reading this, you're probably not a newborn baby anymore and sleep has probably gotten steadily more difficult as you've grown up. I get it. We wind ourselves up throughout the day, deal with complex problems, put out small and large fires alike and by the time bedtime comes, sometimes our brains haven't caught on yet. When that happens, you often have to get creative with tricking your brain into relaxing.
Because Ambien is a dangerous and habit-forming drug, it's not a suitable fix for everyone. If you're looking for a non-narcotic route to a good night's sleep, look no further. On this list, you'll find 5 sleep solutions that don't involve medication. From CBD to white noise machines and a bed air conditioning and heating system, there's something for everyone to try so that sleeping well isn't a random occurrence.
The Adjustable White Noise Machine With Your Rest In Mind
Why We Picked It: White noise machines are not just for napping babies. For those of us that live in environments that are either too loud or too quiet, white noise can provide a necessary calming effect that allows you to fall asleep easier and stay asleep longer. The included LED nightlight allows you to read bedside before you fall asleep and it's perfect for all ages.
The Sleep Aid That Won't Leave You Groggy In The Morning
Why We Picked It: It's not always easy to fall asleep. When you're struggling to fall asleep, be it due to restlessness, anxiety or chronic pain, the Eaze full spectrum CBD pod from The Truth CBD Remiedies will bring you calming euphoria unlike any other sleep aid on the market. Lull yourself to sleep in utter relaxation with the psychoactive effects of THC.
The Blanket That Feels Like A Hug
Why We Picked It: Available in a variety of sizes and colors, this 100% cotton weighted blanket will fit in with any existing bedroom decor to deliver you unmatched comfort at bed time. Whether you enjoy to be cuddled or not, sometimes having another person with you or consistently spooning you throughout the night isn't feasible. This weighted blanket will deliver you the feeling of being held throughout the night without overheating you.
The Temperature Regulator That Clips Onto Your Bed
Why We Picked It: The best things in life are the things you can feel but don't necessarily see. That's BedJet in a nutshell. It conveniently tucks under any bed with a 6-inch clearance underneath and can regulate your sleeping temperatures to your ideal comfort anywhere with 66°F and 104°F. It's quiet, yet packs a powerful punch of instant comfort to you while you sleep. You can even set each side of the bed to your perfect preference so that you are your partner don't have to compromise on your ideal sleeping temperatures.
The Pillow That'll Work With You
Why We Picked It: If you, like me, have to reach a very specific level of pillow configuration before sleep is even a possibility then you probably need a new pillow. Eight Sleep's Ultimate Pillow is that pillow. Try it risk free for 30 days and return it no questions asked if it doesn't work for you. Hot sleepers be damned, this pillow will deliver you luxury comfort that is normally only reserved for vacations.