You Can Legit Wear These Sneakers With a Suit
Finally. A sneaker that is both comfortable and presentable.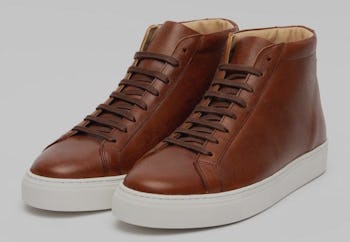 Taft Clothing
There's nothing worse than going to an important event when you are simply too uncomfortable to pay attention. Shoes are one of the most important parts of your outfit to get right, because if your feet are uncomfortable, even moving will be painful. If you've ever looked for shoes that are comfortable and versatile and presentable on formal occasions, then you probably know how difficult it is to get it right. Especially the comfort part.
Taft specializes in solving exactly this dilemma. Their shoes are stylish without compromising on comfort, and these sneakers can legit be worn with a suit. You might be wondering what's so special about them. Taft shoes are made in Portugal and each one of them is hand cut using some of the best materials. They are made to last for many years. The leather on each shoe is painted, stained and burnished by hand, and so is each pattern. For these sneakers, Taft uses Kudu leather, a leather from Southern Africa, which is one of the strongest and softest leathers around making it ideal for shoes. It's rarely used for sneakers given the high cost, but that's precisely what makes these shoes so comfortable.
Taftis also an online only company, which means they are able to significantly cut down on retail costs, saving you around $200 a pair. Given that these are largely handmade, it would be hard to find comparable shoes like these made from leather for this price. If you're someone who is hesitant to buy shoes online, you can rest assured that Taft offers free returns as well, as well as free shipping within the United States.
These sneakers come in a variety of styles and colors, from the basics, like the ones above, to more unique stripe patterns or flower patterns if you're feeling bold. They also come in a hightop design or regular low top sneakers, depending on your preference.